Rolling Stones' images exhibited at Lowry, Salford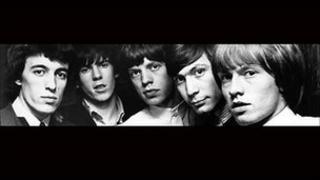 A photographer who took the Rolling Stones' first ever photo shoot is exhibiting previously unseen images at the Lowry art gallery in Salford.
Philip Townsend's exhibition, Mister Sixties, contains a decade of photographs reflecting the social and cultural revolution that took place across the UK.
It is scheduled to run until November.
He said: "I shall be showing a few of my old favourites and quite a few so far unseen images."
Naked photo shoot
There are more than 60 images capturing some of the most iconic faces of the 1960s including Twiggy and The Beatles as well as pictures of private fashion shows at Mary Quant's headquarters.
Between 1960 and 1969 Townsend worked as a photographer for many leading magazines and newspapers both in the UK and abroad.
While other photographers took portraits, often closely cropped, Townsend widened his frame to include backgrounds and landscapes to give a feel of the period.
In April the Lowry celebrated its 10th anniversary with more than 5,000 volunteers stripping naked for a photo shoot with Spencer Tunick.