Police appeal after boys flee secure unit in cycle test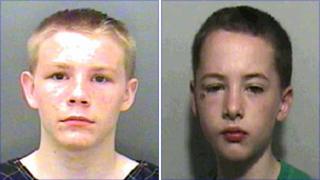 Police are appealing for help to trace two teenagers who absconded from a secure unit in Salford while taking their cycling proficiency test.
Connor Dewhurst, 14, from Blackburn, and Sam Thomas, 13, from Blackpool, are serving custodial sentences at Barton Moss Secure Unit in Eccles.
They were on a supervised test on Wednesday when they managed to cycle away on mountain bikes.
It is thought they cycled to Manchester Victoria Station and got on a train.
Police said they believe the pair - who were riding a silver Claude Butler bike and a red Kote mountain bike during the test outside the unit - were trying to return home.
'Spur of moment'
Insp Matt Whitehead, of Greater Manchester Police, said: "These boys do need to be found and returned to finish the remainder of their sentence, however there is also the fact they are very young so we also have concerns for their welfare.
"I would ask anyone who knows where they are to call us, you are not helping them by sheltering them from the police."
Councillor Margaret Morris, Salford City Council's lead member for children's services, added: "The teenagers were taking part in a supervised course when it appears they made a 'spur of the moment' decision to abscond.
"We will of course look at whether anything more could have been done to prevent this, but our priority now is to work closely with the police to ensure the boys are found safe and well, as swiftly as possible."