Bury Council announces £28m budget cut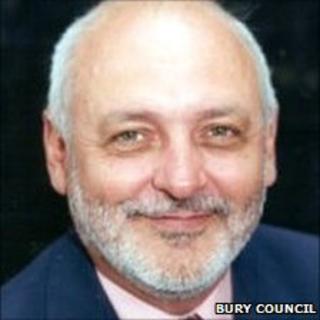 Bury Council has said it needs to make cuts of £28m over the next four years.
The budget cuts come in response to the anticipated average reduction in central government grants of 25% between 2011 and 2015.
Council leader Bob Bibby said savings of at least £7m would be made next year - with £2.4m of that coming from the adult care budget.
Mr Bibby announced on Wednesday that council chief executive Mark Sanders would also step down to save money.
Mr Sanders, who is believed to earn about £150,000 a year, said the move would help the authority weather government cuts to council budgets.
Mr Bibby said other areas to be affected by budget cuts would be children's services, which would be cut by £1.4m, and environment and development services, which would be cut by £1.7m.
'Tough decisions'
The council is also to make corporate savings of £1m and an additional £500,000 in the chief executive's department budget is to be brought forward from 2012/13 to the 2011/12 financial year.
Mr Bibby said: "All councils are having to make tough decisions and Bury is no exception.
"The coming months and years will be challenging and difficult for all concerned, but it is something which must be done to ensure we do what is best for Bury. I am determined to lead us through this process."
He added: "We will continue to protect our most vulnerable residents by making sure they have access to the services they need.
"In the current financial climate we must think differently and look at new ways of working, this will inevitably mean changes to what we do and how we do it."