NHS Bury suspends funding of IVF treatment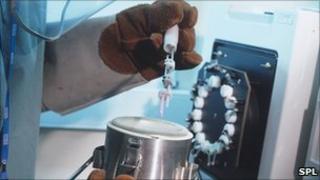 A primary care trust has agreed to suspend funding IVF treatment for most patients as part of measures to save millions of pounds by next March.
NHS Bury announced several cost-cutting proposals earlier this month. They were approved by its board on Wednesday.
It will also stop paying for other "discretionary procedures", including gastric band and varicose vein surgery.
NHS Bury chief executive John Boyington said he hoped the funding suspensions would be temporary.
The trust has a budget of £25.8m each month but it is spending an extra £1.3m every month. It hopes the measures will save £16.2m by March 2011.
It is also temporarily stopping funding for all homeopathy treatments and cosmetic surgery, apart from exceptional cases.
'Postcode lottery'
Hip and knee replacements and cataract surgery are not being suspended and will be available for patients who meet the clinical threshold.
The trust has agreed to continue funding IVF treatment for women who have already been referred, and for women who are described as "age critical".
Mr Boyington said: "If we can get our finances back into balance - and that is something we are working very hard on - then hopefully we can remove some of these restrictions next year and into the future.
"I want people to get the services they need when they need it."
He added: "The vast majority of people in Bury will not actually notice any difference."
A spokeswoman for the area's patients' council said suspending IVF funding was "very unfair" and would lead to a "postcode lottery", with patients in neighbouring boroughs still being able to get treatment.
Warrington PCT in Cheshire also announced it was suspending IVF treatment to cut costs.