Thieves damage Wigan's first council homes for 25 years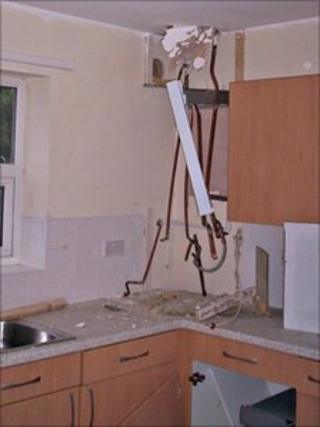 Tenants face a longer wait to move into Wigan's first new council homes for 25 years after six properties were damaged by thieves.
A boiler was ripped out of one of the two-bedroom bungalows on Etherstone Street, Leigh, while pipes and drainage equipment were stolen from all six.
Wigan Council described the damage to the homes, which were almost complete, as "shocking".
Police are investigating the incident, which was reported to them on Monday.
Windows were smashed, kitchen cabinets ripped off and pipes pulled out at the properties in the early hours of 13 September.
The resulting water leaks also badly damaged the kitchen floors of the homes, which were due for completion later this month.
Councillor Kevin Anderson, housing spokesman, said: "At a time when money is tight and the pressure is really on councils not to neglect vulnerable groups, acts of vandalism like this are all the more shocking.
"These properties will offer affordable rented homes and are really needed. I hope those responsible realise the implications of what they have done."
The construction firm has said the repairs will delay the handovers but the council and Wigan and Leigh Housing are both working to ensure the homes are ready as soon as possible.
The bungalows are part of a project to build new affordable homes in Astley, Wigan and Leigh which aims to deliver more than 150 new affordable homes for rent.
Anyone with information should contact Greater Manchester Police.