Harpurhey crime alleys become garden havens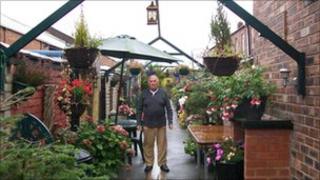 A pensioner from one of Manchester's most deprived areas has inspired a series of alleyway community gardens created out of disused back passages.
Carlos Figueiredo, 72, a retired decorator, created a garden walkway out of a once crime-ridden litter-strewn alleway behind his Harpurhey home.
Now four other alleys have been transformed by residents using council grants after they visited the garden.
The alleys are used for barbecues, birthday parties and relaxation.
Mr Figueiredo, of Dolland Street, who won a prize in the Manchester in Bloom competition, said: "The alleyway was not a nice place to be as it had litter and there was drug-taking and for many people it was a place they would never go.
"I live in a terraced house with a very small back yard, most of which is taken up with an extension, so I had nowhere to garden.
"The alleyway is a labour of love for me and it has become a garden that all the houses that back onto it can share."
'Out of this world'
Mr Figueiredo, who moved to the UK from Portugal in 1969, said that the city council had previously gated off the alleys to try to prevent crime and litter.
"I am glad the gates are there or it would have been impossible to spend so much money on making the garden," he said.
Over the past four years, he has received more than £5,500 in council grants to buy trees, shrubs, lighting, landscaping and a barbecue.
Harpurhey councillor Pat Karney, who attended Mr Figueiredo's 70 birthday party in the alleyway, said: "It's an alleyway that's out of this world - the people who built those passages in the 19th Century wouldn't believe their eyes.
"Carlos is part of the glue that makes Manchester such a brilliant place - he's inspired his community in North Manchester."