Council backs 2011 Manchester Day parade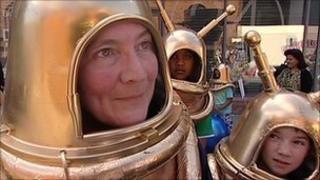 The Manchester Day parade, held for the first time this summer, will be repeated in 2011, the city council's executive has decided.
Tens of thousands of people lined the city's streets in June, bringing an estimated £4m to the economy.
Labour-run Manchester City Council voted on Wednesday to repeat the event in 2011 with about £250,000 of funding.
Culture member councillor Mike Amesbury said the parade helped celebrate the city and brought communities together.
"This year's Manchester Day exceeded all expectations," he added.
"We will now be looking at the achievements of this year's Manchester Day and are confident that this is something we could hold again in 2011."
'Up there with Rio'
The 2010 event, held on 20 June, saw 1,800 people take part in the parade which travelled through the city centre.
Those involved dressed in spectacular costumes for the parade's "out of this world" theme.
At the time, Manchester Day chairman Councillor Pat Karney described it as "a world-beater up there with New York, Sydney and Rio".
But the council's Liberal Democrat group has questioned use of council funds for the event, which this year cost £300,000.
Councillor Simon Ashley, Lib Dem leader on the council, said: "If they said it was £100,000 and we'd get the money back from people like Tesco and Starbucks and other sponsors, then we'd be happy to go along.
"But we think the subsidy is too much when they are making cuts to frontline services like gating schemes and playing parks."
A report to the council executive said it was believed that the call on council funding could be reduced through increased private sector sponsorship.