Old Trafford Craig Bellamy coin toss case thrown out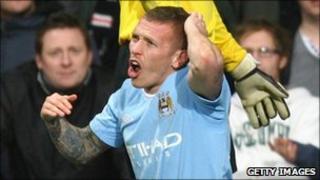 The case against a man accused of throwing a coin at footballer Craig Bellamy has collapsed after a key prosecution witness went missing.
Adam Teese, 26, of Heaton Chapel, Stockport, was accused of "throwing a missile on to the pitch" during the Manchester derby in January.
Bellamy, who was playing for Manchester City at the time, fell to the ground after he was struck by a coin.
Trafford magistrates dismissed the case and Mr Teese walked free.
He had denied the charge and the trial had been due to start on Tuesday.
But prosecution's key witness, steward Ashley Orr, could not be contacted by the court and the case was thrown out.
'Happy and relieved'
Mr Teese's mother, Deborah, 49, sat next to her son during the match at Old Trafford and was to be called as a witness for the defence.
Speaking after the hearing, Mrs Teese said the family had been forced to change their phone number after receiving abusive phone calls from Manchester City fans and numerous unwanted takeaways.
"We are happy and relieved but had it gone ahead we could have proved he was innocent," she said.
Mr Teese, who fears going out in case he was attacked by a City fan, said: "I am going to move on with my life now."
There was a large police presence at the game on 27 January after trouble flared during the first leg.
United progressed to the Carling Cup final after winning the match 3-1, giving them a 4-3 aggregate victory over their Manchester rivals.
There was a large police presence at the game on 27 January after fans clashed during the first leg, which City won 2-1.
Striker Bellamy is now playing for Cardiff City after being sent on a season-long loan deal by the club.