Greater Manchester Police preparing to cut 3,100 jobs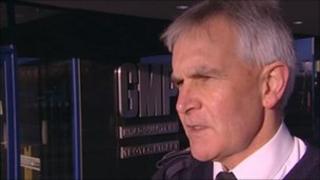 Police in Greater Manchester are preparing to cut thousands of jobs due to the government's anticipated 25% cut in spending, it has been revealed.
Greater Manchester Police (GMP) is expecting to lose 1,500 officers and 1,600 civilian workers from a total of 12,000 employees.
Chief Constable Peter Fahy said the cuts would be "challenging and painful" and would have an impact on policing.
GMP Federation said it could lead to crime rising in the long term.
The cut to the police budget in England and Wales is generally expected to total 25% - in line with other government cutbacks - but the exact level will not be known until the spending review is announced in October.
Planning for months
Mr Fahy said GMP had been planning for the cuts for months and staff had been looking at areas where savings could be made.
"While every effort has been made to reduce our corporate costs and protect front-line services to the public, inevitably there will be fewer posts overall and that will have an impact on policing," he said.
"While the full extent of cuts will not become clear until later this year, we are working on a range of assumptions and making plans accordingly.
"We will do our utmost to ensure that front-line services are protected as much as we can so that we can continue to reduce crime and improve public confidence.
"However, no-one should doubt that this process is very painful for all the staff involved and it is naive to think that all aspects of service delivery can be maintained during a period of such financial reduction."
The force has already lost officers in the past six months by not replacing retired officers and through a freeze on recruitment.
Chris Burrows, chairman of the GMP Federation, said he was "extremely disappointed" by the proposals which he said would affect people's quality of life.
"It will affect the ability to deal with anti-social behaviour and burglary - they are the things that really affect people's lives."
He added: "We have seen a long-term steady decline in crime in recent years. I think we would see it start to increase."