Ex-army warrant officer jailed for stealing £600,000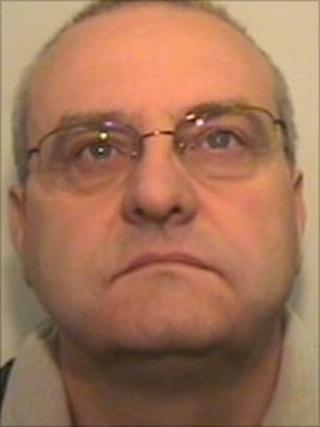 A retired Army warrant officer who was made an MBE for his services to his country has been jailed for stealing £627,587 from his employer.
Douglas Williams, 53, stole from Reynard's UK Ltd in Greater Manchester over a period of six years, Minshull Street Crown Court heard.
His son, 31-year-old David Williams, and his daughter, Laura Yardley, 28, were also involved in the fraud.
Douglas Williams who admitted false accounting was jailed for three years.
Employed as the financial director at the family-owned food packaging firm he used his position to transfer money into his bank, write himself cheques or use company cheques to purchase luxury items.
The former officer, of no fixed abode, even stole cash from the safe.
'Almost destroyed business'
He bought a static caravan in Wales, paid deposits for his children's homes, purchased a £13,200 Audi for his son and spent £3,525 at Liverpool FC entertaining some of his friends with the cash he stole from his employer, Alan Reynard.
His thefts came to light when Mr Reynard injected some cash into the business to assist with its cash flow.
After 12 months the situation had not improved and Mr Reynard began to examine his accounts. He quickly uncovered the deception and contacted the police.
In a victim impact statement, he said: "I trusted Douglas 100% and I treated him as one of the family.
"To this day I do not know why he began stealing money from the company.
"He almost destroyed my business, which may have caused 95 people to lose their jobs.
"I feel totally betrayed and hurt by what he has done. I have lost a considerable amount of money that I may never get back."
Williams's son, of Stanstead Avenue, Warrington admitted 14 counts of possessing and using criminal property to the value of £63,082.37 and was jailed for 12 months.
His daughter, of Penrose Gardens, Warrington, admitted two counts of possessing criminal property to the value £25,000 and was given a 12-month suspended sentence and ordered to undertake 250 hours unpaid work.
Det Insp Paul Hatton said: "The level of deception in this case is quite astonishing.
"Williams held a trusted position and he used that to systematically steal a huge amount of cash over many years.
"Despite his hefty salary his greed knew no bounds and he used the company money as his own.
"He has now lost absolutely everything, including his wife and the respect of his friends and family."