Dying patient's Manchester hospice centre request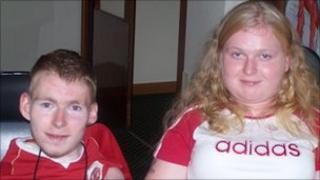 A centre for terminally ill young adults has opened at a Manchester children's hospice - fulfilling the dying wish of a former patient.
Stephen Ryan, 22, who died nine months ago, wrote to Francis House Hospice trustees to say he wanted to be able to be cared for in an adult environment.
His life-long neuro-muscular condition meant that he was increasingly isolated as he became older.
Mr Ryan's sister Tanya, who has the same condition, opened the centre.
The four-bedroom centre on Parrswood Road was paid for through charitable donations.
In his letter, Mr Ryan said the centre could be a place where he could go and spend time with other young adults with terminal illnesses.
'Act quickly'
Ms Ryan, 24, said: "Stephen was determined to see a service created to meet his and his friends' care needs and to live a life like any other person rather than one governed by routine.
"To think this has all happened from something as simple as writing a letter, but he was the one to put pen to paper and so it's because of him that we are here."
Francis House chief executive Reverend David Ireland said: "Stephen's letter brought into focus the plight of many young people who are too old for the children's service but too young to fit in with the traditional adult care system.
"We now have more than 90 young people over the age of 16, the oldest of them over 30, all of whom have different care needs and so we decided we must act quickly to help fill the gap.
"Even though the creation of Francis Lodge from the receipt of the letter by the trustees to the official opening will have taken only 18 months, it's too late for Stephen, but his friends and many others will benefit from his efforts."