Sir Ranulph Fiennes fined over car crash in Stockport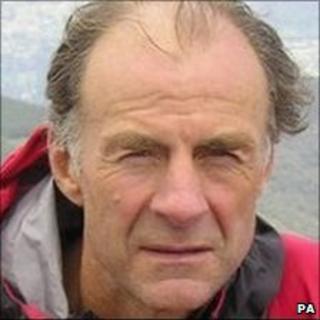 Sir Ranulph Fiennes has been fined £1,000 after he had a "momentary loss of consciousness" at the wheel of his car and crashed into another vehicle.
The explorer was injured in the head-on collision in Stockport, Greater Manchester, on 6 March.
The other motorist was in intensive care for a month after the crash.
At Stockport Magistrates' Court, the 66-year-old also received four penalty points after pleading guilty to driving without due care and attention.
Sir Ranulph, of Exford in Somerset, was the first man to visit both the North and South Poles by foot and the first to cross Antarctica on foot.
He was returning from the 42-mile High Peak Marathon - which his team won - in his Jaguar X-type when he crashed on the A6 in Heaviley at about 1340 BST.
His car swerved on to the opposite carriageway and hit a Nissan Micra driven by Luigi Castaldo, who was with his 10-year-old son.
'Greatly concerned'
The Micra shunted backwards into another car before flipping into the air and landing on its roof, the court was told.
Mr Castaldo, who was not wearing a seatbelt, was thrown from the driver's window and was trapped between the roof and the road. His son was not injured.
Sir Ranulph's car continued forward and hit the front of another car on the opposite side of the road.
Eddie Coyle, prosecuting, said the explorer was "greatly concerned" for the welfare of Mr Castaldo and rushed to free him.
Mr Castaldo suffered bruising to the head, a broken collarbone, a fractured right wrist, four broken ribs and damage to his femur. Both his lungs were deflated and his left kneecap was shattered.
He spent 17 days on a ventilator and since leaving hospital, his life has been "completely altered", Mr Coyle said.
The driver of a Ford Focus which was behind the Micra also suffered a head injury.
Mr Coyle told magistrates: "Mr Fiennes seems to have suffered a micro-sleep or a momentary loss of concentration.
"It is not possible to say which it was but it was clearly for a brief duration."
The prosecutor said it was not a case of dangerous driving but "very much a case of momentary loss of consciousness and concentration".
Had eaten pasta
He said Sir Ranulph would have been tired after the endurance run but "he is, by any measure, no ordinary man in terms of his achievements and stamina".
He also described Sir Ranulph as a "very, very experienced driver".
Representing himself at the hearing, Sir Ranulph said: "I hugely regret the incident to Luigi and his family."
He said he had never previously lost his concentration in this way while driving.
He had rested specifically for the challenge and had eaten pasta to keep up his energy levels, he said.
"There is no reason why I should have [fallen asleep] when this strange thing happened. I assumed that must have been the case."
Outside court, he told reporters: "I am really, really sorry for what happened to Luigi and his family."