AstraZeneca staff in Macclesfield strike over pensions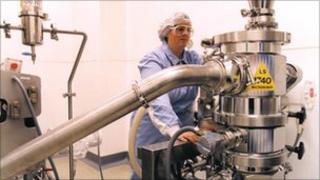 Staff at AstraZeneca in Macclesfield are staging the first in a series of planned strikes over pension changes.
GMB members voted to walk out after being told their pensions would be frozen forever if they remained in the defined benefits (DB) scheme.
The pharmaceutical company said it had invested an extra £645m since it closed the DB to new members 10 years ago, but it still had a deficit of £1.4bn.
The GMB said that the proposed changes were "draconian".
AstraZeneca said that 165 of GMB's 469 members in the 9,000-strong UK workforce voted for a strike.
The company's DB scheme has about 2,500 active members.
'Very disappointed'
Since 2000, new joiners have been offered membership of a defined contribution (DC) pension scheme, which does not guarantee the same level of pension.
The company has told DB members that they must either accept that their pensionable salary is frozen or give it up and move into the DC scheme.
The strike action at the Macclesfield plant, which employs 3,500 people, is being staged in three two-hour blocks throughout the day with up to 469 union members taking part.
It is the first of three days of action, with the remaining two days planned for 15 and 22 September.
An AstraZeneca spokesman said: "AstraZeneca is very disappointed that the GMB union has chosen to pursue strike action, after only 165 of its 469 members in the AstraZeneca UK workforce voted for a strike. AstraZeneca employs approximately 9,000 people in the UK.
'Doing remarkably well'
"It is our firm belief that industrial action is not in anyone's best interests.
"AstraZeneca remains committed to providing a very competitive level of pension benefit, and the changes made ensure all employees continue to have access to pension arrangements that compare favourably to other organisations in the UK."
A GMB spokesman said: "AstraZeneca is not suffering in the recession and is doing remarkably well, so there's absolutely no reason for them to remove the final salary pension link.
"They just want to take the pension liability off their balance sheet."
The Macclesfield plant is the company's second largest and makes the anti-cancer treatment Zoladex, used in the treatment of prostate and breast cancer.