'One punch' boast killer from Oldham jailed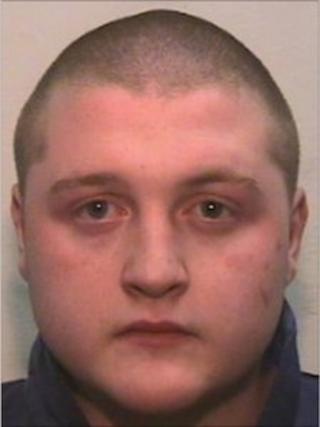 A 22-year-old who boasted that he possessed "a killer punch" has been jailed for killing a man with just one blow outside a Greater Manchester pub.
Louis Veitch attacked Andrew Molloy, 25, by Old Mess House in Oldham on 15 March.
Manchester Crown Court heard he punched his victim in the side of the head with such force it knocked him over.
Veitch, who earlier admitted manslaughter, was jailed for six-and-a-half-years.
He was also given an extra three years on licence under the Dangerous Offenders Act 2003.
Minutes before attacking Mr Molloy, Veitch, of Caunce Street, Blackpool, had told those around him that he had a "killer punch", the court was told.
Martin Hill, from the Crown Prosecution Service (CPS), said: "This was a mindless and completed unprovoked attack with horrific consequences."
The court was told that Veitch was thrown out of the pub along with another group of people after a disturbance took place inside.
He had not been involved in that dispute, but he had allegedly punched another person on the dancefloor in the pub earlier that night, the court was told.
'Needless death'
Once outside Veitch spoke to a number of other people on the pavement, including Mr Molloy, none of whom had been involved in the previous disturbance.
During the conversation with his victim, Veitch suddenly moved to one side, touched him on the shoulder as if to line up a punch, and threw a single punch to the face.
The blow was so strong it knocked Mr Molloy, who had his hands in his pockets, off his feet and he fell backwards, with his head hitting the ground.
Mr Molloy suffered a fatal head injury as he hit the ground. He was taken to Hope Hospital, where he died six hours later.
Senior investigating officer Andrew Tattersall said: "This was a sudden attack on an innocent, defenceless man who had his hands in his pockets at the time. He didn't even have time to protect himself.
"We'll never know why Veitch decided to pick on Andrew.
"We do know that Andrew's needless and untimely death has left his family devastated.
"This case demonstrates the terrible consequences of just one punch or push."