Future of South Manchester Law Centre 'in doubt'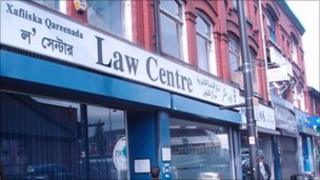 The future of a welfare rights centre in Manchester is in doubt after its funding was cut by more than £40,000 a month.
One worker at South Manchester Law Centre in Longsight, said the vulnerable would be "driven to sharks and charlatans" if it closed.
Staff offer advice on issues such as asylum, immigration and employment.
Manchester City Council said a new legal centre would open in October at a cost of £9m over three years.
The Legal Services Commission (LSC) and the City Council have stopped funding new cases in employment, housing or benefits at the centre.
The LSC said they had given funding through a competitive tender process and the centre had failed in their bid for funding in those areas.
It will continue to receive funding from the LSC for asylum and immigration cases.
Justice 'not at risk'
A LSC spokesman said: "Access to justice for clients has not been put at risk as the LSC will commission broadly the same amount of help delivered across England and Wales in 2008/9."
The City Council said the new Manchester Community Legal Advice Service would open on 14 October.
The Law Centre in Longsight opened in 1976 and now employees 15 full and part-time workers.
It costs £50,000 per month to run, but the funding changes mean it will have now have an income of less than £10,000 a month.
Paul Morris, who has worked at the centre for 30 years, said: "The most vulnerable and desperate people will be driven to sharks and charlatans who make money out of people who would be our clients."
Mohammed Noor, originally from Somalia, has used the law centre since 1996 and is also an interpreter.
He said: "It will be very difficult for the Somali community to access the kinds of specialist advice we need whether immigration, housing or welfare benefits if the law centre does not exist."