Trafford best-placed to resist economic woes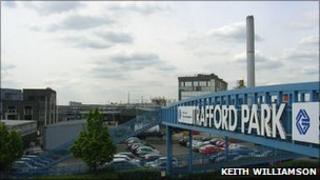 Trafford is the area of north west England best equipped to weather sudden changes in the economy, research commissioned by the BBC suggests.
The study by Experian ranks 324 English councils to measure an area's potential resilience to future economic shocks.
Trafford's low reliance on businesses vulnerable in the current economic climate was one of the factors in establishing its strong position.
Its "resilience ranking" was 81st in England, and top in the North West.
The nearest Greater Manchester borough was Stockport, which placed 161st for overall resilience.
Potential cuts
The BBC commissioned the research ahead of the government's comprehensive spending review on 20 October.
It looked at each council area, assessing them under four themes:
Business - including its strength of the business base, proportion of firms vulnerable to cuts and insolvency rates
Community - including the rate of people claiming benefits and life expectancy
People - including the size of working population, proportion with no qualifications and size of earnings
Place - including GCSE pass rates, crime rates and house prices
Trafford ranked second in the North West for business - given a 50% weighting towards the index - first for people and place - and sixth for community.
The borough's relatively low percentage of people employed in vulnerable sectors - such as construction and public sector - and its high proportion of foreign-owned, or multinational, businesses were two of the factors.
Trafford's sheer number of businesses - VAT registrations in the borough are 72.2 per 10,000 head of population, significantly higher than the 57.2 national average - helped boost its resilience rating.
Councillor Alex Williams, deputy leader of the Conservative-run council, said its diverse range of companies - making it less reliant on one sector - had also helped.
Good infrastructure
"Trafford Park, for example, has a diverse range of businesses, including multinationals like Kellog's, businesses better able to weather economic storms," he said.
"We also have good infrastructure and good transport links - Metrolink goes right through the heart of Trafford.
"And we have a good workforce and a good labour base, a high skill base that in many respects are attracted by the quality of services, the quality of education - some of the highest [standards] in the region."
Trafford Park spans 4.7 sq m (12.1 sq km) of land in the borough and is said to be the world's first planned industrial estate.
Agriculture and food producer Cargill, one of more than 1,400 companies on the park, recently invested more than £100m in its Trafford processing plant.
General Manager Martin Douglas told the BBC that one of its major markets - the relatively recession-proof food industry - played a large part in its success.
"We've got to eat. It takes an awful lot for the average person to consume less than 2,500 to 3,000 calories a day and one of the benefits we've had in our food business is that through the recession people have continued to buy our food products," he said.
Despite the company's success - its net earnings were $2.6bn last year - Mr Douglas said it could not afford to be complacent, especially with the expected government cuts.
"I think we need to be guarded," he said.