Penny farthing race takes place in Knutsford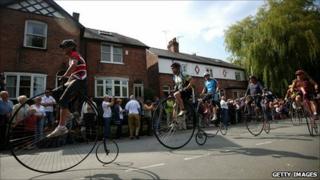 Penny farthing riders from around the world have taken to the streets for the 1km Knutsford Great Race.
The race, which is only held once every 10 years, challenges riders to a three-hour endurance test.
With 50 teams competing, the winner will be the team that completes the most circuits of a 1km track, within the three hours from 1400 to 1700 BST.
Competitors came from as far afield as New Zealand, Germany, Australia, The Czech Republic and the United States.
The event this year is raising money for Shelterbox, a charity which provides shelter and survival equipment after world disasters.
Competitor Eric Rhodes, from Frederick, near Washington DC, travelled to the UK just for the event.
He said: We've done 100-mile rides before, so three hours isn't as horrible.
"It all depends on the roads, there are some bumpy parts around here and there's no cushion on the tyres so it gets a little sore on the bottom, but it's ok."
Mike Kennedy, also from near Washington DC, said the race was a great opportunity for penny farthing fans.
"It's only every 10 years, it sounded very exciting, when you ride a penny farthing there aren't many organised events for this sort of thing and this seemed like a great opportunity," he said.
Paul Reed, from the UK, said getting on the bike was the hardest part.
"It's quite exhilarating and they're not that easy to ride," he said.
"Basically I started to ride because I've got three children, and when I rode a normal bike I was always waiting for them, and when I ride a penny they're always waiting for me, and I find it a bit more interesting to go riding.
"The actual riding isn't that difficult, it's just the getting on and getting off."
The penny farthing was invented in 1871 by James Starley.
It was named after the largest and the smallest copper coins in the currency at that time.
In the 1870s a party of enthusiasts are said to have ridden penny farthings from Lands End to John O'Groats (690 miles) in 15 days.