Greater Manchester Police pair may face crash charges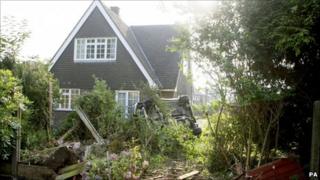 Two police officers who crashed a high-performance car seized from a suspected drink-driver could face prosecution.
The Mitsubishi Lancer ploughed through the gardens of two homes before rolling on to its side in Hale Barns, Greater Manchester, early on Friday.
Both officers face an investigation to establish why the car was driven when policy is to wait for a recovery truck.
But if no legitimate reason is found by investigators they could be prosecuted for taking a vehicle without consent.
Greater Manchester Police (GMP) said both men were left shaken by the incident and had yet to be formally spoken to.
Ch Supt Mark Roberts, Trafford Divisional Commander, told the BBC there would be a thorough investigation into the crash.
"We're going to have to look at what the accident investigation people tell us from the scene and then our Professional Standards Board will take it all in the round and make a decision on how we go forward," he said.
"As would be the normal procedure, we'd made arrangements for the vehicle to be collected.
"It then seems that the officers have decided to drive it from the scene, we're not clear as to why - we'll need to speak to them.
"We need to get a proper account from those officers, we need to look at what the crash investigation people tell us and then we'll decide what's gone on."
Officers had stopped the vehicle after watching it being driven erratically on Hale Road at about 0215 BST. A 23-year-old man was arrested on suspicion of drink-driving.
It was after the man was taken into custody that the divisional officers - who between them have almost 19 years of service - got into the Mitsubishi Lancer Evolution VIII.
Russell Lomas, 82, whose garden was one of those driven through, told the BBC he was awoken by a "tremendous crash".
"It would, I would have thought, have needed somebody to be driving it very, very quickly indeed to cause the chaos that this has done," he said.
The car, known as the Lance Evo, is capable of reaching 60 mph in 4.8 seconds and is electronically limited to a top speed of 156mph.
The officers have been suspended from driving and will be placed on restricted duties when they return to work.