Escort girl drug doctor 'can practise again'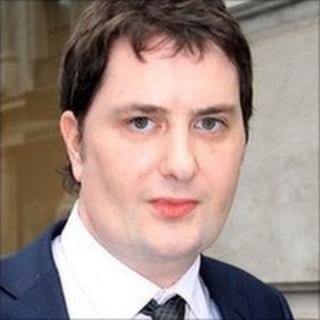 A doctor who was suspended after he falsified a prescription for a cocaine-addicted escort girl has been told he can resume practising medicine.
Dr Adam Osborne - brother of Chancellor George Osborne - was suspended for six months by the General Medical Council (GMC) in February.
He was found to have behaved dishonestly in an attempt to obtain anti-psychotic medicine for the woman.
The 33-year-old was training at a Manchester hospital at the time.
Dr Osborne also admitted "inappropriate" behaviour in relation to the prescription, as well those written to get an anti-smoking drug for a family member and the contraceptive pill for his then girlfriend.
The suspension will be lifted on 26 September, after a GMC review panel found his fitness to practise was not currently impaired.
The suspension followed incidents which took place between June 2006 and May 2008 while Dr Osborne was a psychiatry trainee at Wythenshawe Hospital.
He met the woman, with whom he was having an affair, in the hospital car park, on 12 May.
'Personal journey'
She was suffering from hallucinations and displaying psychotic behaviour so Dr Osborne wrote a prescription for the drugs haloperidol and lorazepam.
He was denied the drugs by hospital staff so drove to a nearby pharmacy where obtained the drugs.
Dr Osborne was also criticised for failing to record any of the prescriptions for the three people in their personal records and not telling their GPs.
Christina Lambert QC told the panel that although Dr Osborne "came from a privileged background it has not been an easy journey for him emotionally".
Dr Osborne said the suspension came as the "biggest shock" and he realised how unacceptable and inappropriate his behaviour was.
The panel said: "Since the February 2010 hearing you have changed a lot and have been on a personal journey.
"You stated that you were quite immature but that over the last two years you have grown up a lot and taken responsibility for your actions."
The panel said it was now satisfied he had taken sufficient steps to remediate his misconduct and they felt the behaviour was "highly unlikely to be repeated".