Cyril Smith: A Rochdale champion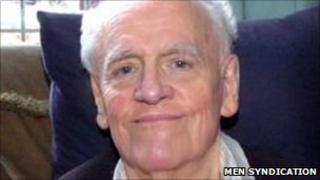 Born and raised in Rochdale, Sir Cyril Smith was fiercely loyal to the town which he went on to represent in Parliament for more than 20 years.
He died on Friday morning in his sleep at the town's Hurstead nursing home.
First elected to Rochdale Council aged 22, he was still campaigning on behalf of the Liberal Democrats and local charities more than 50 years on.
The larger-than-life politician celebrated his 80th birthday in 2008 with a pie supper at the town hall.
Former Rochdale MP Paul Rowen said he put the town back on the map.
"His contribution to public life was second to none," he said.
"He was a real character who was a hugely influential figure to many people.
'Huge loss'
"He certainly got me involved in politics as a young man and spurred me on to fight and win Rochdale in 2005. Certainly he played a huge part in my victory then.
"Even though he was frail, he insisted on coming out on the streets and knocking on doors. He was a real character."
Manchester Lib Dem Simon Ashley said he was "a champion" for his hometown.
"Sir Cyril Smith was a champion for Rochdale and a formidable campaigner for the Liberal Democrats. His death is a huge loss to the party," he said.
"On behalf of the Manchester party, my condolences go out to his brother Norman and his family at this difficult time."
'Towering figure'
Current Rochdale MP, Labour's Simon Danczuk, said: "Cyril Smith was a towering figure in Rochdale politics and will be missed by many."
Deputy Prime Minister Nick Clegg said he was "deeply saddened" to hear of Sir Cyril's death.
"Everybody in Rochdale knew him not only as their MP but also as a friend," he said.
"Rochdale and Britain have sadly lost one of their great MPs, and I think we can safely say there will never be an MP quite like Cyril Smith again."
Born the illegitimate son of a Rochdale housemaid in 1928, Sir Cyril won a scholarship to Rochdale Grammar School for Boys, where he honed his debating skills at the local Unitarian Church.
He was elected to Parliament in 1972 for the Liberals and served the constituency until he retired in 1992.
The politician was knighted in 1988 and was awarded the MBE in 1966, when he also served as Mayor of Rochdale.