Rochdale town centre secures £100m redevelopment cash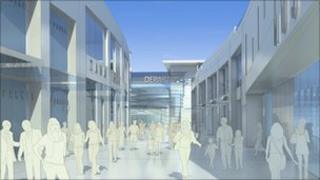 Proposals to redevelop part of Rochdale town centre have secured a £100m injection of funding.
A department store, retail outlets and a hotel are all planned to breathe new life into the town.
Outline plans being drawn up by Genr8 Developments will go out to public consultation before being submitted to Rochdale Council in 2011.
Council Leader Irene Davidson described the funding as an "important milestone for Rochdale town centre".
Genr8 Developments, the council's regeneration partner, secured the cash after signing a deal with Kajima Partnerships, a company which invests in real estate.
Metrolink arrival
Its scheme is part of the wider £250m redevelopment of the town centre, the council said.
Mrs Davidson said: "This is another important milestone for Rochdale town centre, with construction of the Sixth Form College complete, the building of the new civic offices under way and the Metrolink due to arrive in the town.
"We very much welcome the funding partnership and we look forward to working with Genr8 to progress a scheme through to planning application stage."
John Hudson, chief executive of Rochdale Development Agency, said the deal was another "positive step" towards their development plans.
If plans are approved, work on the project could be complete by 2014.