Rangers' zone plan to stop Manchester riots re-run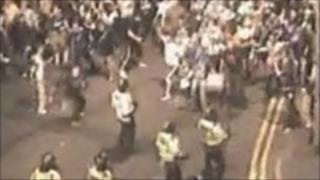 Rangers fans will be put in a "holding zone" ahead of their team's Champions League match in Manchester, to prevent a re-run of the riots of two years ago.
The club said it would provide coaches for all fans travelling to the match with Manchester United on 14 September.
Supporters will be driven to a holding zone at Wigan Athletic's DW stadium before being taken to Old Trafford.
The aim is to avoid riots like those seen at the 2008 Uefa Cup final, where Zenit St Petersburg beat Rangers 2-0.
More than 100,000 fans travelled to Manchester for the match, but riots broke out in the city centre after a technical fault with a big screen left fans frustrated.
Police officers were attacked and hundreds of thousands of pounds worth of damage was caused.
'No exceptions'
Groups of supporters clashed with police in Manchester city centre, where damage was caused to a bank, bus stops and a sports car which was bounced across a road.
A number of fans and at least 15 police officers - and a police dog - were hurt in the clashes.
Twelve supporters were eventually charged with criminal offences and are due to be sentenced on Friday.
Now police fear Rangers fans without tickets will again travel in large numbers, and some United supporters could seek revenge.
A statement on the Rangers website says there would be "no exceptions" to the rules.
"All travel will be by coach under the official designation of the club.
"Tickets will not be issued to anyone under the influence of alcohol. Supporters without tickets are strongly advised not to travel," it said