Manchester United defend season ticket sales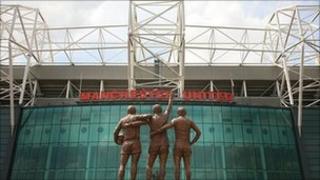 Manchester United chief executive David Gill has defended the club's failure to reach their season ticket sales target.
The club has sold 51,800 season tickets, compared to its target of 54,000, Mr Gill said.
He insisted the figure was "pretty good in the current climate" and said the club was "in good financial shape".
It follows a campaign by Manchester United Supporters' Trust (MUST) urging a boycott, to try to persuade the Glazer family to sell the club.
Mr Gill said: "We've sold more season tickets than the capacity of most Premier League grounds.
"Our executive seat sales are on track as compared with last year in a different market."
MUST has protested against the Glazer family taking on substantial debts to buy the club.
The debts now stand at more than £700m including a £500m bond scheme, and £202m in payment-in-kind loans.
Mr Gill refused to be drawn on claims made by BBC Panorama earlier this year that the Glazers' shopping mall empire in America was facing problems.
Duncan Drasdo, MUST chief executive, said the shortfall was "a tipping point" in the Glazers' ownership.
"Up until this season they increased ticket prices aggressively every year and could get away with it because the loyal fans they forced out were replaced by others still prepared to pay the increased price," he said.
"The failure to sell out season tickets is very significant as the Glazers depend on an excess of demand over supply to exert control over supporters."
Mr Drasdo said part of the failure to sell out was due to fan's "huge dissatisfaction" with the Glazers' operation and the lack of investment in the squad.