Protest against Bolton Council spending cuts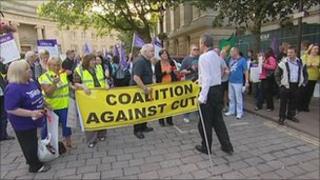 Council workers and local residents have held a rally outside Bolton Town Hall to protest against the council's spending cuts.
Bolton Council says it has to save £60m over the next four years in response to the anticipated reduction in central government grants.
It is reducing departmental budgets by millions of pounds and cutting jobs.
Council leader Cliff Morris has previously said he is "not happy" about having to make the cuts.
The protesters met on Wednesday evening, ahead of and during a meeting of the council.
'Shame on you'
Some heckled at councillors as they arrived, shouting: "Shame on you, shame on you."
The cuts include reducing the adult services allowance for 2011/12 by £6m which may mean it becomes harder to access care or it may become more expensive as care costs are raised.
The children's services budget is also being slashed by £3.5m.
Spending on the environment and corporate resources will be reduced by about £4m.
Hundreds of jobs will also go at the authority.