Goat's horns ripped out in Middleton sanctuary attack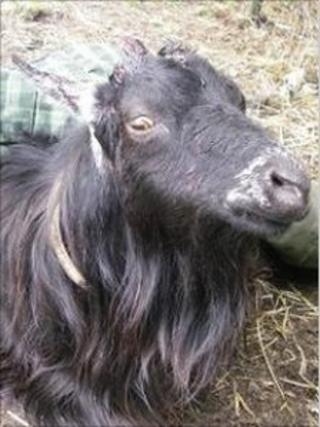 A goat had to be destroyed after attackers wrenched his horns out and broke his leg in what the RSPCA said was an "horrific cruelty case".
Sidney, a 19-year-old black pygmy goat, was left with two holes in his head after the attack at a sanctuary in Middleton, Greater Manchester.
He was discovered by the owner's 13-year-old son on Friday at 1200 BST at the sanctuary in Tennyson Road.
Ponies and horses ran loose after fences were smashed down in the attack.
Police said the raid took place between 2000 BST on Thursday and 1200 BST on Friday at the Tennyson Road Horse and Pony Shelter, while its owners were away.
RSPCA inspector Caroline Hall said: "This is one of the worst cases of animal cruelty I have ever seen and it was absolutely unbelievable that anybody could commit this senseless brutality.
"It must have taken more than one person because of the sheer force required to remove his horns.
"A vet examined Sidney, and because he was so badly injured it was kindest to end his suffering and put him to sleep."
'Right state'
Sidney had lived at the shelter, which also looks after 10 horses and ponies, for the past 10 years since his elderly owner was forced to give him up when she moved into care.
Sanctuary owner Debbie Bailey said: "His legs were broken and he was all out of shape and they'd just ripped his horns out of his head and his skull was bleeding.
"I had to just walk away as I was in a right state.
"Ten years we'd had Sid - he was my best mate and would follow me everywhere."