Bury wedding guest dies from Salmonella bug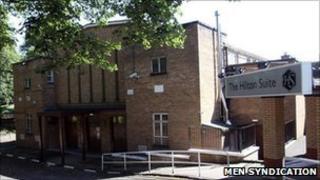 An 82-year-old woman has died from salmonella poisoning after an outbreak of the bug at a wedding.
Rene Kwartz was one of four people taken to hospital after the Jewish celebration at the Hilton Suite in Prestwich on 8 August.
Three of those recovered and were discharged but Mrs Kwartz died on 26 August. Five more guests who fell ill did not need hospital treatment.
The Health Protection Agency (HPA) is investigating.
Environmental health officers from Bury Council and NHS Bury are also involved in the investigation.
Lawyers representing the guests at the wedding of Stephen Wicks and Jennifer Harris are taking legal action against the outside caterers to the function.
The HPA said the caterers were co-operating fully with the investigation.
Dr Marko Petrovic, from the HPA's Greater Manchester health protection unit, said: "It's very sad that a patient associated with this outbreak has died and our thoughts and sympathies are with the family.
"We are looking into the circumstances of the case. Deaths from salmonella infection are rare."
Dr Peter Elton, director of public health at NHS Bury, said: "Illness arising from the salmonella bug can be debilitating, especially for young children and older people.
"It is important for anyone with symptoms of salmonella infection, which may include diarrhoea, abdominal pain, headache, nausea, vomiting, or fever, to maintain their fluid levels and take the utmost care with hand-washing and hygiene generally."
Salmonella is a bacterium that is commonly found in the gastrointestinal tract of wild and domestic animals and birds, especially poultry, and occasionally in humans.
Infection is frequently associated with eating food containing the bacterium - most commonly meats, raw eggs, milk, and dairy products - usually following the contamination of cooked food by raw food or if food has not been cooked properly.