Stockport law firm closure 'to cost more than £10m'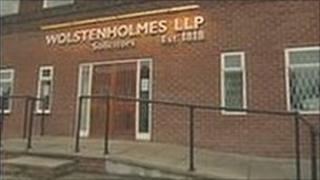 The forced closure of a Stockport-based law firm is expected to cost more than £10m, administrators have said.
Wolstenholmes, which opened in 1818, was closed down by the Solicitors Regulation Authority (SRA) in December.
Five solicitors had their licences suspended amid claims of dishonesty and that accounting rules were broken.
The SRA has already paid out £9.4m in compensation but administrators Berry and Co say the total clear-up costs will exceed £10m.
Thousands of customers are thought to have been affected by the closure.
Most of them were using the firm to help them buy a house.
Many complained to the Legal Complaints Commission (LCC), saying they had lost money.
'Missing Porsche'
An SRA spokesman said: "As of Friday, the SRA has investigated and concluded more than 550 applications relating to the intervention of Wolstenholmes LLP and has, as a consequence, paid out £9.4m (including emergency funding) from the compensation fund."
The administrators told the BBC that Wolstenholmes owed £3.5m to creditors when it was closed down - including to staff and Lloyds TSB bank.
The bank also paid for a Porsche sports car for the firm, which is missing, the administrators said.
Solicitors Imran Hussain, Helen Murgatroyd, Bobby Shabbir, Bilal Khawaja and Nasser Ilyas all had their licences suspended in December.
Mr Khawaja, Mr Hussain and Mr Shabbir are now being allowed to practise, subject to a strict set of conditions, the SRA said.
"The investigation into the firm is ongoing and the appointed agents are dealing with client files," it said.