Manchester TV talent schoolboy to sing for Pope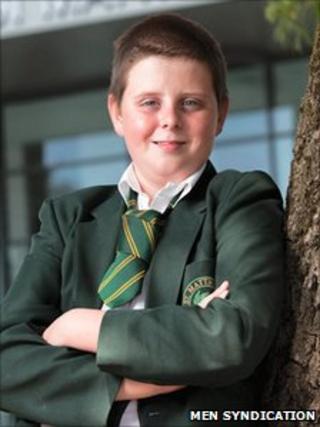 A north Manchester Catholic schoolboy who shot to fame on TV show Britain's Got Talent is to perform for Pope Benedict during his UK visit.
Liam McNally, 14, from Moston, will sing a choral version of Our Father in front of 280,000 in Hyde Park and a global audience of millions.
He has been given the honour after a recording was sent to the Vatican by Salford Diocese Bishop Terence Brain.
Liam's father, Billy, told the BBC his son was more excited than nervous.
Plans were started for the performance before Liam's appearance on the last series of the TV talent show, which led him to the final.
His singing had already been recommended to the bishop by teachers at St Matthew's School, Moston, said Mr McNally.
But after his performance of Danny Boy wowed judges he was soon recording a track that has been included on a CD being given to pilgrims attending events next month.
After being given the nod by the Vatican, Liam will be among those signing on stage in Hyde Park.
"The audience that will be watching, worldwide they are talking it could be up to one billion… it's absolutely amazing," said Mr McNally.
"But he's not looking at the worldwide thing. He's just looking at being on stage singing. He said he's more excited than nervous."
Mr McNally said the family were finding all the attention since Liam's final appearance "unbelievable".
"We actually went to Florida on our holidays and even there people were saying 'that's him'. It's really strange, but he's enjoying it. He's a young lad and he's liking the limelight."
The Pope is visiting the UK between 16 and 19 September in what will be the first papal visit to the UK since that of John Paul II in 1982.