Rochdale Council agrees £14m budget cuts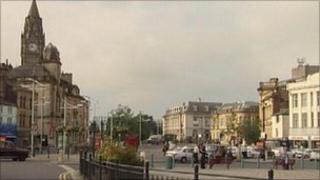 Cuts of more than £14m have been agreed by Rochdale Council as part of efforts to slash £50m from next year's budget.
Services will be merged, management posts will be removed and some department budgets will be cut as part of the efficiency proposals.
Children's Services appears to be the worst hit department and must save £2.1m. Planning faces a £1.2m cut.
Jobs will be lost as a result of the proposals but the authority would not put a figure on the scale.
Council management are holding briefing sessions with staff to explain the reason for the savings and what it could mean for their jobs.
'Severe challenges'
Roger Ellis, chief executive, said: "We are looking at ways to make our services more efficient, avoid duplication and stop delivering some work, but unfortunately there has to be a reduction in jobs.
"It's important staff are fully supported and involved in the process and that's our first priority given the severe challenges we face.
"We're also trying to protect the front-line services vulnerable people depend on by delivering services for less money."
Officials are looking at a number of ways of minimising the impact of redundancies, including early retirement and voluntary redundancy.
If implemented, the savings could take effect from November.
Proposed savings measures include:
£3.5m - Significant reduction in management posts
£2m - Budget savings in core services
£1.2m - Planning, Housing and Regeneration budget savings
£2.1m - Children, Schools and Families budget savings
£1m - Contributions from arms-length partners
£1.7m - Land disposal and asset management savings
£1.7m - Savings from increasing charges for certain services
£1.4m - Merging functions across the council