Manchester City Council's care decision 'deplorable'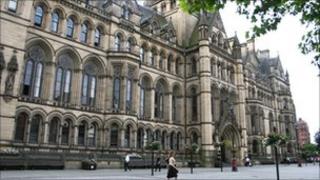 A High Court judge has criticised a council for taking a severely disabled teenager away from his foster mother and putting him into a care home.
Manchester City Council took the 19-year-old, who has a mental age of two, from his foster home while allegations against his carer were investigated.
The allegations later proved to be unfounded. Mr Justice Baker said the move decision was "deplorable".
The council said it "strongly believed" it did the right thing.
The teenager, who has a serious physical handicap and learning difficulties, had lived with his foster mother since 1995.
He was removed from her care in April but they have now been reunited.
His foster mother and sister launched a legal action seeking declarations from the court that the council acted unlawfully.
'Failure'
Mr Justice Baker gave his judgement on 26 March but only allowed the local authority to be named as Manchester City Council on Friday.
The judge, referring to the teenager as E and his foster mother as F, said: "There was, in my judgment, a deplorable failure to take into account the close relationship between E and F, the need to sustain that relationship, and a consequent failure to arrange any contact for several months between this vulnerable young man and the person who had been his carer - his mother figure - for most of his life."
He also condemned the way the council had tried to justify its action by claiming adult carers could not use physical restraint, when they can if they have had training.
The judge said: "The local authority case on this point has been lamentable."
He ruled the council breached the teenager's human rights. The council should have sought a court order before putting him into the care home, he said.
It also failed to abide by the Deprivation of Liberty Safeguards required by the Mental Capacity Act 2005.
'Management to blame'
He said no one social worker was to blame but the responsibility lay "higher up the line of management".
Liz Bruce, Manchester City Council's director of adult services, said "serious concerns" were raised about the teenager's welfare so they had "an obligation to act".
"It was not an easy decision to keep E at the home where he was receiving respite care, but his welfare was our primary consideration," she said.
"While we strongly believe we did the right thing, the judge has made it clear that we went about it the wrong way.
"We regret this and have now put in place measures so that, in future similar cases, we will follow the correct procedures."