Birthday appeal over Manchester betting shop shooting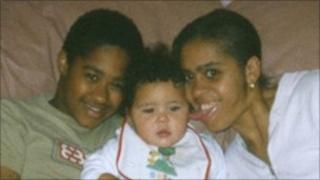 Detectives investigating the shooting of a teenager in south Manchester have made a fresh appeal for information on what would have been his 19th birthday.
Louis Brathwaite, 16, was shot inside William Hill betting shop at Mauldeth Road West, Withington, in January 2008. He died in hospital 12 days later.
A £50,000 reward is on offer to help catch his killer, who police have described as "cold-blooded".
His mother Sophia said: "Louis, we love and miss you. Happy birthday."
She added: "Louis was a real family boy and we all feel his loss even more on occasions such as his birthday, which he should be celebrating today with me, his brothers and sisters and the rest of his family and friends.
"I think about what he might be doing and wonder whether he would have gone on to university or started work.
"As his mother I will never get to know because someone has taken him away from me."
The teenager was inside the betting shop on 28 January when a gunman burst in and fired five shots, also hitting a second man.
He is described as black, between 5ft 7ins and 6ft tall and dressed in dark clothing with his face covered.
After the shooting, he fled with another man in a black Volkswagen Golf. Despite an arrest being made, no-one has been charged over the death.
Det Insp Dave Cooney, from Greater Manchester Police's Major Incident Team, said: "Despite a full and thorough investigation, we still need the evidence that can bring justice for Louis's family.
"To the gunman's associates and accomplices, I would ask you to think long and hard about the horrendous pain and suffering you have put Louis's loved ones through.
"If that is not enough to motivate you to help us, think about the reward of £50,000.
"We need your help to put this cold-blooded killer behind bars, and if you are prepared to do the right thing and talk to us, we will do all we can to protect your identity and help you get a clean start."
In March, Manchester Crown Court heard that another gun victim, 16-year-old Giuseppe Gregory, was shot in a revenge attack for Louis's killing.
Giuseppe was killed in a pub car park in Stretford on 10 May 2009 while sitting in a car next to a man rumoured to have shot Louis - but who was ruled out of police inquiries.
Louis's friend Hiruy Zerihun, 18, and 19-year-old Njabulo Ndlovu were both jailed for life after being convicted of Giuseppe's murder.