Frank Sidebottom statue plan attracts sculptor offer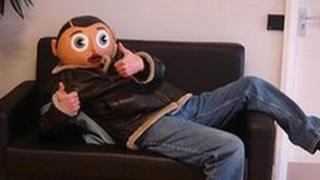 Fans of comic creation Frank Sidebottom have been approached by a professional sculptor to create a memorial statue in Timperley, Greater Manchester.
Peter Minister, who worked with Frank's creator Chris Sievey at Hot Animation in Altrincham, wants to help fans establish a permanent tribute.
More than 2,500 Frank admirers have backed the campaign on social networking site, Facebook.
Plans drawn up by Mr Sievey's friends will be submitted to Trafford Council.
Mr Minister, from Sale, who is also an illustrator for publisher Dorling Kindersley, plans to create a life-size Frank out of a bronze-based resin.
"I worked with Chris and he had an untapped talent that you can't help feeling was about to come into its own again.
"My children aged eight and 13 have downloaded his material and they laugh out loud. Frank was just a great funny character."
Mr Sievey, from Hale, died last month, aged 54, after a short fight with cancer.
His creation boasted that his home town was Timperley, which featured in his short films and comedy material.
The planned statue will not feature Frank's classic thumbs-up pose, revealed friend and campaign organiser, Nick Fraser.
"We've taken advice and the sticking out thumbs could pose a health and safety risk, so we're going to go for hands on hips, which is also iconic Frank.
"We're taking our time on this and want to get it right for Chris.
"We're drawing up a planning submission to erect the statue on public land in Timperley and if it takes two or three years to go through the process, then that's just fine."
Raw materials are estimated to cost £8,500, but Mr Fraser said that an appeal would only be launched to raise the money once permission had been secured.
"We know from the phenomenal response we had in raising more than £20,000 in just a couple of days for Chris's funeral that raising the cash is not going to be a problem.
"There's an awful lot of love out there for Frank."