Antony Gormley: Students concerned about 'phallic sculpture'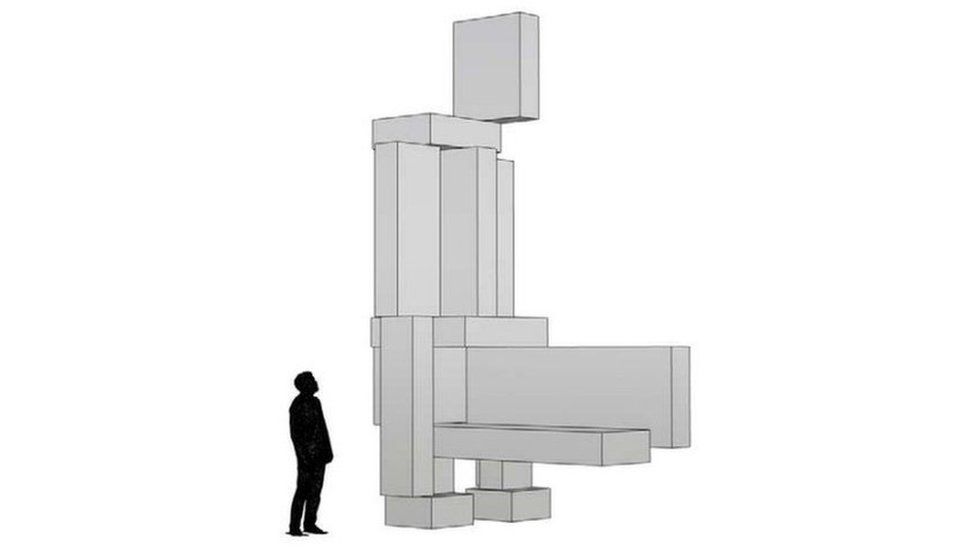 Students at a London university say a proposed "phallic" sculpture by Sir Antony Gormley could "hurt the image and reputation" of the institution.
Imperial College London students say the 20ft (6m) piece, named Alert, looks like a man with an erect penis.
Gormley has described the figure as "balancing on the balls of the feet" and "surveying the world".
The artwork is set to be installed this summer at the university's campus in South Kensington, west London.
The "abstract human figure" will be made out of steel and weigh 67 tonnes, according to a planning report.
Gormley, whose best-known work is the Angel of the North, said in a statement on the university website: "Through the conversion of anatomy into an architectural construction I want to reassess the relation between body and space.
"Balancing on the balls of the feet while squatting on its haunches and surveying the world around it, the attitude of this sculpture is alive, alert and awake."
A university spokesperson said: "Sir Antony Gormley is one of the world's foremost living artists, and we are grateful to have been gifted one of his iconic sculptures."
But Imperial College Union, a body representing the university's students, argues that the artwork could "hurt the image and reputation of the college".
The union said: "While the artist's intended form may '[evoke our] community of scientific research' the phallic interpretation does not.
"The name Alert could also be understood as referring to the statue's phallus being erect."
Kensington and Chelsea Council gave the university planning permission last year for the sculpture.
A report by council officers said: "The proposed works are acceptable from a design perspective and would preserve the special architectural and historic interest, character and significance of the listed building and the character and appearance of the conservation area.
"Furthermore, the works would not result in material harm to living conditions and it has been demonstrated that the proposals are unlikely to unduly affect surrounding trees."
Related Internet Links
The BBC is not responsible for the content of external sites.