Last Supper targeted by climate protesters at Royal Academy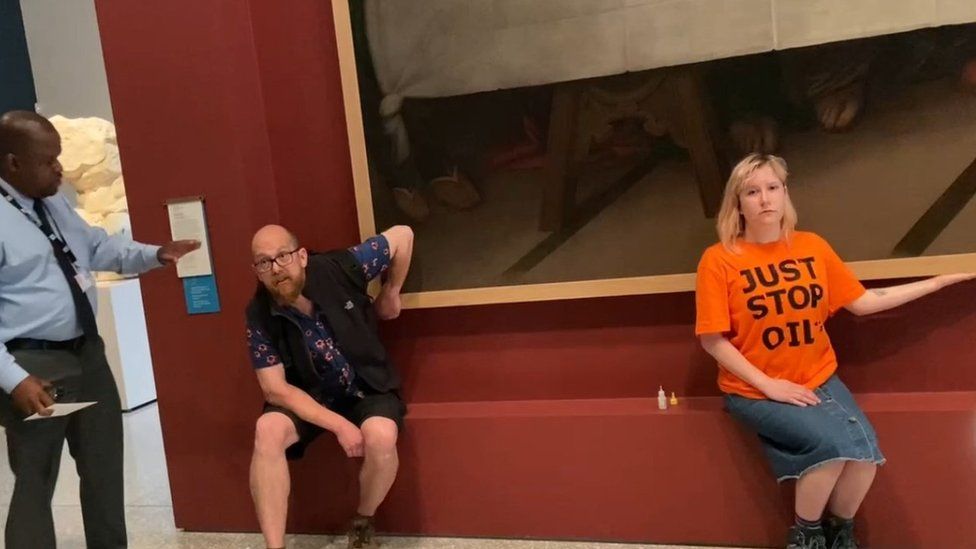 The Last Supper in the Royal Gallery is the latest painting to be targeted by climate protesters.
Four Just Stop Oil activists glued their hands to the frame of the Renaissance artwork hanging in the Royal Academy.
They also daubed a slogan in spray-paint underneath the frame in the Piccadilly gallery.
The Last Supper shows the famous scene where Jesus eats with his 12 apostles for the final time and warns one will betray him.
It is believed to have been painted by Giampietrino, a student of Leonardo Da Vinci, copying his masterpiece from about 1520.
One protester, Jessica Agar, a 21-year-old from Hereford, said: "I am an art student but there is no place for me to follow my calling as an artist in a world where I have no future.
"In no uncertain terms, the establishment - of which the Royal Academy is a part - has condemned me and all young people to suffer. I am outraged and you should be too."
On Tuesday, protesters attached their own "apocalyptic vision of the future" to the John Constable oil painting the Hay Wain and glued themselves to the frame.
Earlier this week Just Stop Oil allegedly targeted a Scottish art gallery and stormed Sunday's British Grand Prix.
Related Internet Links
The BBC is not responsible for the content of external sites.