Jermaine Baker: Fatal shooting of unarmed man lawful but Met criticised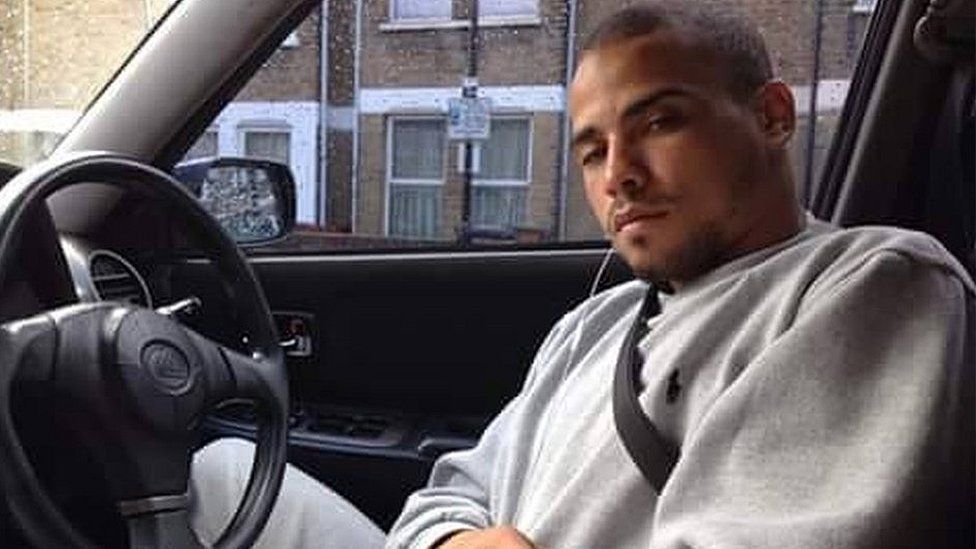 A Metropolitan Police operation that led to an officer fatally shooting an unarmed man in north London was lawful but there were failings at almost every stage, an inquiry has found.
Jermaine Baker, 28, was shot during a foiled attempt to free an inmate from a prison van near Wood Green Crown Court in 2015.
No live firearm was found inside the car in which Mr Baker was killed.
But Judge Clement Goldstone QC said race was not a factor in the shooting.
Mr Baker's mother, Margaret Smith, rejected the conclusion her son did not die as a result of police failings, saying they meant her son was "dead before he got in the car".
Speaking after the findings were published, Mr Baker's mother said: "The judge has pointed out numerous, really serious failings by the Met.
"Running the risk that my son's life would be taken was never justified," Ms Smith said.
"I cannot agree with the judge's conclusion that Jermaine did not die as a result of these failures, that is a conclusion I cannot understand.
"After seven years of waiting... we deserve more."
The Met Police said it would take time to carefully study the inquiry's conclusions.
Mr Baker was one of three men waiting in a stolen Audi to break out inmate Izzet Eren, a senior member of the notorious Tottenham Turks gang.
An imitation firearm, an Uzi, was later found in the rear of the car.
The inquiry heard officers had intelligence that the group had been unable to obtain a real gun, but this information was not passed on to the firearms team who confronted the men.
Mr Baker may also have been asleep at the time he was shot and may have misunderstood contradictory instructions shouted by armed officers who challenged the men in the Audi, the inquiry was told.
'Arrogant, dismissive attitude'
It also heard officers failed to consider any possible outcome other than an armed stop, and had not properly assessed the risk posed by Eren's cousin, Ozcan Eren, who was behind the escape plot.
The police force also failed to engage with the Prison Service about Eren's escape risk or tell prison van staff of the planned jail break.
Failures to keep notes of meetings showed "an arrogant, dismissive attitude towards formality and a failure to appreciate the importance of accountability and maintaining an audit trail", the inquiry found.
However, he noted that when the firearms officer shot the father of two, he had "held an honest and genuine belief that Mr Baker was moving in order to reach for the firearm".
He also said he "found no evidence to support a finding that race played any part in Mr Baker's death".
Ms Smith said her son was "no angel", but he "should have gone to prison" rather than be shot dead.
She had called on the inquiry chairman to consider whether her son being black could have been a factor in him being killed.
The inquiry heard that a police bug in the car had captured a wall of noise, with some officers telling the group to raise their hands.
But the officer who fired the fatal shot, known only as W80, said he had instructed Mr Baker to put his hands on the dashboard.
W80 told the inquiry he was convinced the men would be armed and would fight their way out rather than surrender when challenged by armed police.
In his findings, Judge Goldstone said W80's "overall credibility" as a witness "remained largely intact".
But, detailing the various failures, he said public safety should have been, but was not, the primary objective of the operation.
He also described the operation's idea of ridding the streets of north London of lethal firearms as "delusional".
In a statement, the Met Police said it had made changes to how its firearms officers operated in London, including through training and supporting officers.
A spokeswoman added: "We are always open to improving our capability to tackle the threat of firearms."
The Crown Prosecution Service decided not to bring criminal charges against W80 in 2017.
Related Internet Links
The BBC is not responsible for the content of external sites.