Time Out London publishes final print edition after 54 years
By Harry Low
BBC News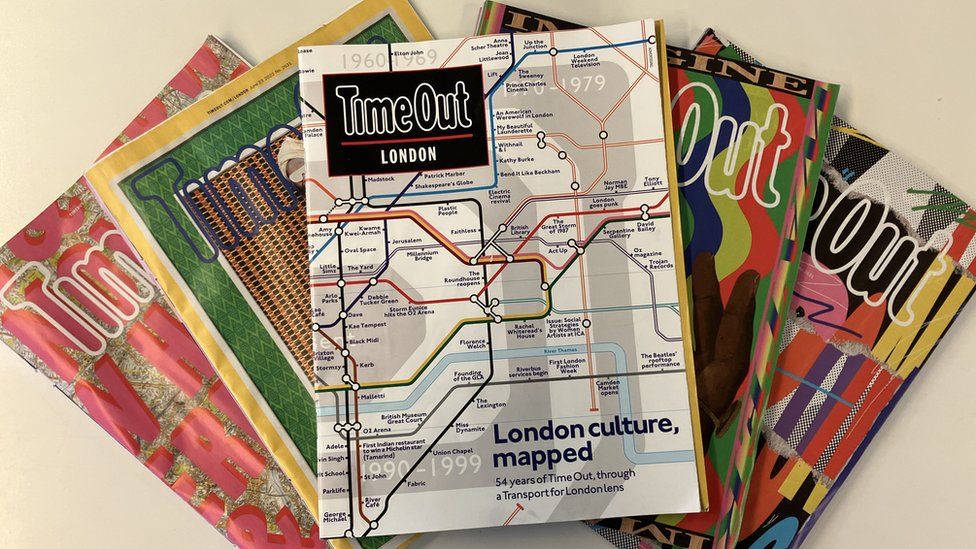 Time Out magazine has published its final print edition after 54 years.
Distribution was delayed by two days due to Tube strikes, an issue it has poked fun at many times over the years.
Writing in the final issue, global editor-in-chief Caroline McGinn said: "It's been a privilege and a pleasure to serve you in print for 54 years. Long may our love affair continue."
The listings magazine first launched as a newsletter by founder Tony Elliott on the King's Road, Chelsea, in 1968.
Four London artists created bespoke covers for the last print edition, beneath the main front page.
Ms McGinn added: "Thank you to the expert, hilarious mavericks who made this mag: there's no better team in the business.
"Thank you Londoners for going out with us for half a century."
To mark the last regular print issue of Time Out London, four London artists have created bespoke covers representing London right now.
​
​In this issue:
​
💌 Love letters to London from writers and comics
🌸 How the city is rewilding
☀️ Our guide to the best of summer 2022 pic.twitter.com/ekevRs4KQc

— Time Out London (@TimeOutLondon) June 22, 2022
The food, drink and entertainment magazine had a circulation of 50,000 and cost £3.25 in 2012. In September of that year, it relaunched a slimmed-down edition and became free for readers.
In March 2020, it was rebranded temporarily as Time In when the national coronavirus lockdown prevented people from socialising and businesses from opening.
As well as providing listings, Time Out's reviews of theatre, cinema and restaurants offered a slice of life in the capital for generations of Londoners.
The title will now focus on digital-only content.
Laura Lee Davies, editor between 1999 and 2004, started at Time Out in 1987, when the music section was "pages and pages" long, and told BBC Radio London she is "saddened" by the print edition's demise.
She said: "When you open a paper magazine you get those wow moments and those things you don't know you're looking for whereas online... you don't necessarily find what you didn't know what you were looking for."