Fares Maatou death: Boy murdered with sword in walking stick, jury told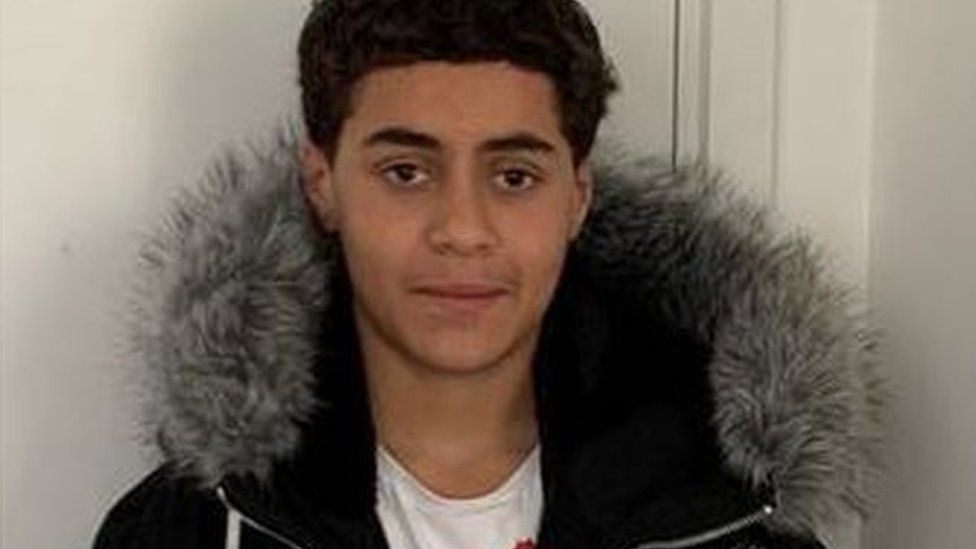 An unarmed 14-year-old boy was murdered during the daytime by two boys, then aged 14 and 15, who were armed with a sword concealed in a walking stick, a prosecutor has alleged.
Fares Maatou, 14, was allegedly set upon by the boys after a confrontation with a larger group in Canning Town, east London, on 23 April last year.
Julian Evans QC told the Old Bailey the schoolboy "offered no threat at all".
The two defendants, who cannot be named because of their age, deny murder.
Jurors heard Fares suffered a single 11cm (4.3in) injury to the left side of his upper back, caused by the sword, which had been stolen from the grandfather of one defendant, then aged 14, and passed to the other defendant, then aged 15.
The then 14-year-old beat Fares with the sheath, jurors were told, before both youths fled the scene.
Prosecutor Mr Evans told the court the attack, on Barking Road, was caught on CCTV footage.
He said: "Both of his [Fares'] hands were in front of him at waist height. Fares was not holding anything. He was completely unarmed."
The older boy then lunged at Fares, the jury was told, the first of three such attempted blows with the sword, while the younger boy swung the sheath.
Fares reacted by bringing both of his hands up towards his face and head to protect himself, Mr Evans told jurors.
He added: "As he, Fares, tried to escape, he turned his back on [the defendants] and he, Fares, moved away.
"Despite that action, [the defendants] continued to attack him."
The older defendant lunged at Fares a further two times, the court heard.
Fares tried to run away, but slipped, and the defendants continued to attack him, the jury was told.
Fares briefly managed to get to his feet once the attack stopped, the court heard, but he lost his footing again and fell against a parked car nearby.
He was pronounced dead at the scene.
Related Internet Links
The BBC is not responsible for the content of external sites.