E-bike fire warning issued after Shepherd's Bush tower block blaze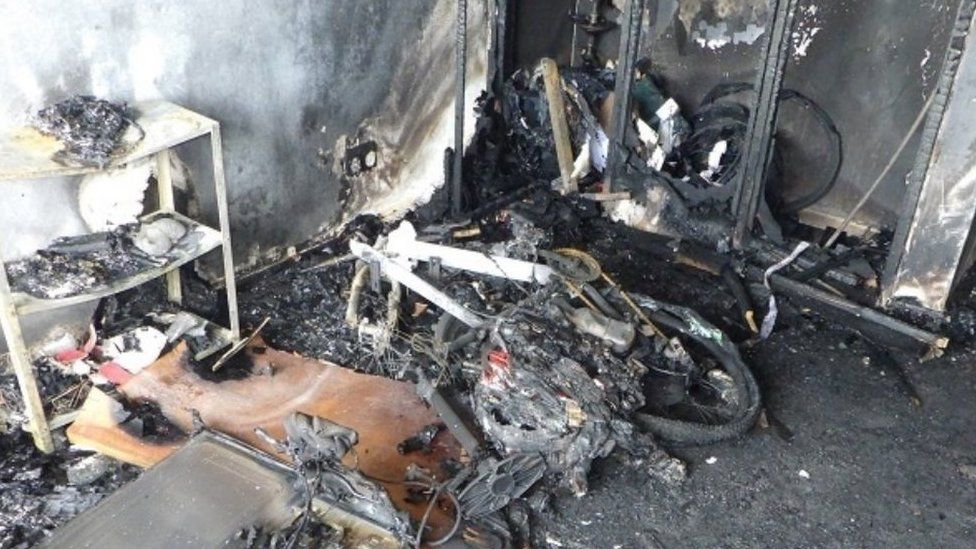 London Fire Brigade (LFB) has warned about the dangers of e-bike batteries after a west London tower block blaze.
LFB has confirmed the fire, less than a mile (1.6km) from Grenfell Tower, was caused by a faulty battery in an e-bike.
The brigade said there had been dozens of similar incidents in recent months.
With photographs showing the charred remnants of the e-bike, the brigade warned of a rise in "ferocious" fires, particularly if incorrect chargers were used, because these batteries can explode.
LFB's assistant commissioner for fire safety, Charlie Pugsley, said: "When these batteries and chargers fail, they do so with ferocity and because the fires develop so rapidly the situation can quickly become incredibly serious.
"These items are often stored in communal areas and corridors and can block people's only means of escape.
"Another issue with fires involving lithium-ion batteries, and which we saw at yesterday's fire, is that when they fail, they eject their contents over a wide area which can lead to multiple areas of burning in the room where the fire has started."
So far this year, LFB has sent crews to 32 fires involving e-bikes, another seven involving e-scooters, and a further 17 fires involving other lithium-ion batteries.
LFB investigations show many of the fires involved e-bike conversion kits, to convert a standard push bike into an electric bike, rather than purpose-built ones.
With the e-bike fire within sight of Grenfell Tower, where 72 people died in 2017, a fire chief acknowledged it would have been "difficult for the local community to witness".
However, Jonathan Smith, assistant commissioner for fire stations with LFB, said the most recent fires highlighted improvements made since then.
"My thoughts are with all affected by those incidents," he said: "The fire in Queensdale Crescent in Shepherd's Bush was minutes away from Grenfell Tower and will have undoubtedly been difficult for the community to witness."
Related Internet Links
The BBC is not responsible for the content of external sites.