Bexleyheath: Large sinkhole swallows up part of London street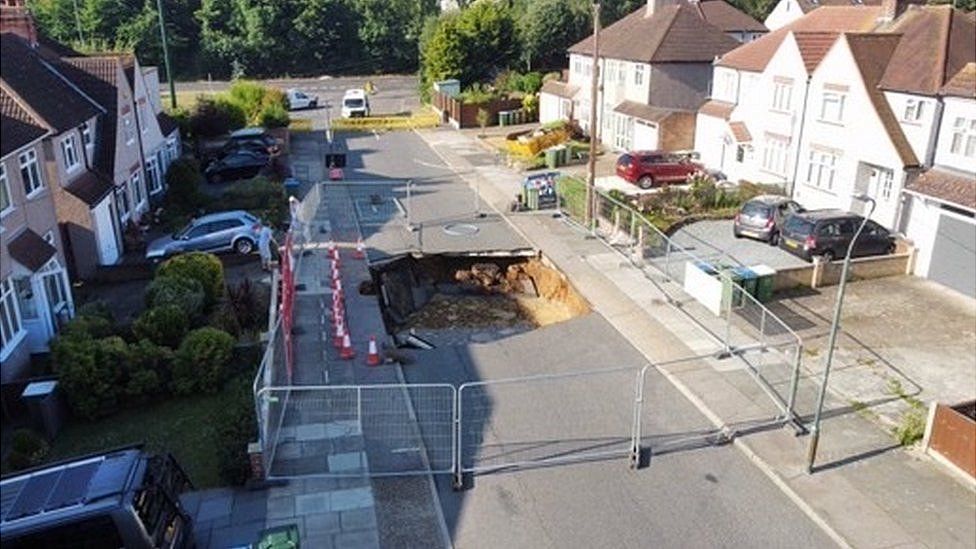 A section of a residential road in south-east London has collapsed and broken up into a large sinkhole.
The road surface on Martens Avenue, in Bexleyheath, began cracking and crumbling into the hole on Tuesday evening, and police were called.
The collapsed area now spans the entire width of the street and several metres in the other direction, but officers said no-one had been hurt.
The road has been cordoned off as far as Leysdown Avenue.
Staff from Thames Water were at work on Wednesday afternoon to check whether water pipes had been affected by the road caving in.
Bexleyheath residents told the Local Democracy Reporting Service (LDRS) it was the second time a massive hole had swallowed up their neighbourhood; back in 2008, a similar hole appeared in a garden on nearby Braeside Crescent.
Kate Bostal, 38, said she would have to go in a different direction on the school run because of the sinkhole.
While, Eddie Rivers, 49, said neighbours described to him the sound of a "crack" as the road gave way.
He said: "I saw it last night at 9pm as I was putting the bins out.
"Basically, there were a couple of people standing there and I asked what was going on, and they said there was this noise and it just opened up.
"They said the noise was like a crack. The police arrived not long after and blocked the road off."
Neighbour Paul Power, 56, added: "It's crazy. Put it this way, say you lived at a house right where the sinkhole is and you reversed out in your car. Can you imagine that?"
Related Internet Links
The BBC is not responsible for the content of external sites.