London Underground strike: Fourth 24-hour Tube strike of 2022 disrupts capital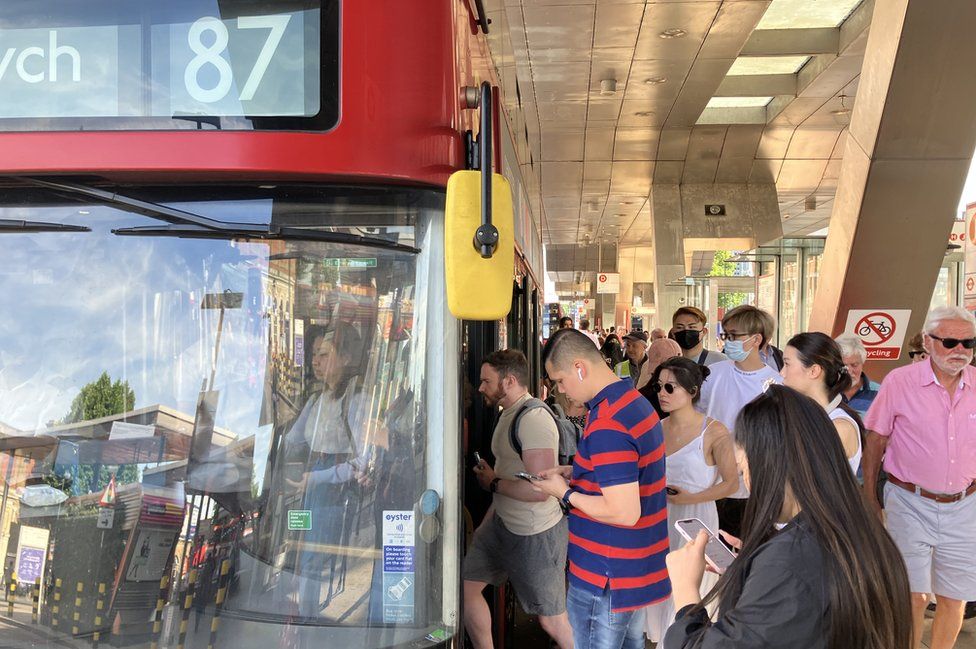 A Tube strike, part of the biggest rail strike in 30 years, has created major disruption for Londoners.
About 10,000 London Underground staff joined in the strike, claiming proposals by bosses will cut jobs, change working agreements and pensions.
Final train services were much earlier than normal, such as London Euston to Glasgow at 13:30 BST and London King's Cross to Edinburgh at 14:00.
The chaos is set to continue on Wednesday, with only 60 per cent of trains running, mainly due to a delay to the start of services because signallers and control room staff are not doing overnight shifts.
Prime Minister Boris Johnson put the public on notice for further strike action as Downing Street said it would "not give in" to demands from the rail unions.
Mr Johnson warned commuters they must be ready to "stay the course" and urged rail bosses and unions to agree on a modernisation package to safeguard the future of the industry.
There were also severe traffic queues on outer London sections of the M1, M4, A4 and A40. Also badly affected was the A23 at Croydon, the A2 at Blackheath, the A20 at Lewisham and the A1261 East India Dock Tunnel.
People trying to travel around the capital on foot also faced long queues for buses.
Taxi firm Uber hiked its prices amid a spike in demand, with a three-mile (4.8km) journey from Paddington to King's Cross estimated to cost £27 at 08:45.
West End theatres were left had to cancel shows and sports venues, including the Oval at Vauxhall, were left with seas of empty seats.
Strikes are also planned for Thursday and Saturday.
With no Victoria line services as staff take industrial action, Vauxhall Tube station remains closed, as it has been all day.
That means passengers at the bus station are clustering around the front door of each vehicle arriving during the evening rush hour.
Beyond the stacks of Evening Standard newspapers and passengers, the railway station has a limited number of trains calling here with the last train to Waterloo leaving at just after 18:30 BST.
It will undoubtedly impact the number heading to the Oval cricket ground for Surrey's T20 Blast match against Somerset.
And for those who miss the last train home, the longest day of the year may yet feel even longer.
Healthcare support worker David Raposo Buzon, who was an hour-and-a-half late for work, pointed out that NHS staff like him "aren't able to strike" like rail company workers.
He waited at a bus stop from 06:30 to try to make it in for his 07:30 start, but long queues and packed services meant he did not get into work until 09:00.
The 34-year-old, originally from Spain, said: "I feel OK with people doing strikes, but at the same time I feel angry when I think that NHS workers are not able to strike even if our conditions at work are really bad.
"We aren't able to strike because we need to provide a minimum service but the service is already under minimum right now and, on the top of that, if you strike, people literally die, so you feel guilty and, at the end, don't do it."
He added that "my salary is totally worse than the ones that are striking - the country needs a change".
Harry Charles, 30, an electrical engineer at a hospital, said his normal 10-minute journey to work by train to London Bridge took him 90 minutes.
Mr Charles, from Lewisham, south-east London, said: "Obviously, I had to wake up early and left my house at 6am.
"I am with the employees who are striking because their money is not going up and the cost of everything is rising.
"The strike has caused a lot of hassle for people but everyone wants to be able to eat and be able to afford to put in a good day's work."
The father of three, who got into work on a packed bus after three or four went past too full to take on any more people, added: "One thing is, just imagine what it would be like getting through this if the weather was bad."
Israeli tourists Eliya Lavi, 18, and Oriel Lavi, 21, arrived with their suitcases at London Bridge Underground station to find it closed, and then spent an hour trying to figure out how to get to their hotel in north London.
Eliya Lavi said: "We just came from Gatwick and from Tel Aviv to take our first holiday in London.
"We want to get an Oyster card to get us to the hotel but the Underground is closed. It sucks. We have been here for an hour to try and find out, but they [the station staff] just tell us to 'go here' or 'go there'."
Susan Millson, 69, of Clapham, south-west London, described the strikes which had forced her to cancel a trip to East Grinstead, West Sussex, to see her sister for the day, as "outrageous" and "awful".
She said there was no point trying to make alternative arrangements, including for Wednesday, as there was bound to be a "knock-on effect", even though it is not a strike day.
Although the strike was well publicised in advance, some people have been taken by surprise by it and arrived at Tube stations hoping to travel. Christine Peters, who is visiting London from Australia, said the strike was "frustrating".
"As tourists we can't really go anywhere other than where we can walk to. When you're a tourist you've only got a certain amount of time to be in London."
Black-cab driver Lee Embery was supportive of the strikes "because the cost of living's going up, food, petrol, everything.
"I do have sympathy for them because we're all working class at the end of the day."
The RMT has claimed 600 jobs will be lost under TfL plans for the London Underground network, while it has also warned that its members face "detrimental" changes to their pensions and working conditions.
TfL previously said nobody would lose their job under current proposed changes.
A walk from the British Library to Euston station - some trains running here - a few passengers trying their luck. Roads & buses seem ok - people heeding the advice & not travelling ? pic.twitter.com/tqEfJv89zW

— Tom Edwards (@BBCTomEdwards) June 21, 2022
It is the fourth London Underground strike this year.
Related Internet Links
The BBC is not responsible for the content of external sites.