Central London buses could be reduced by fifth, TfL warns
By Harry Low
BBC News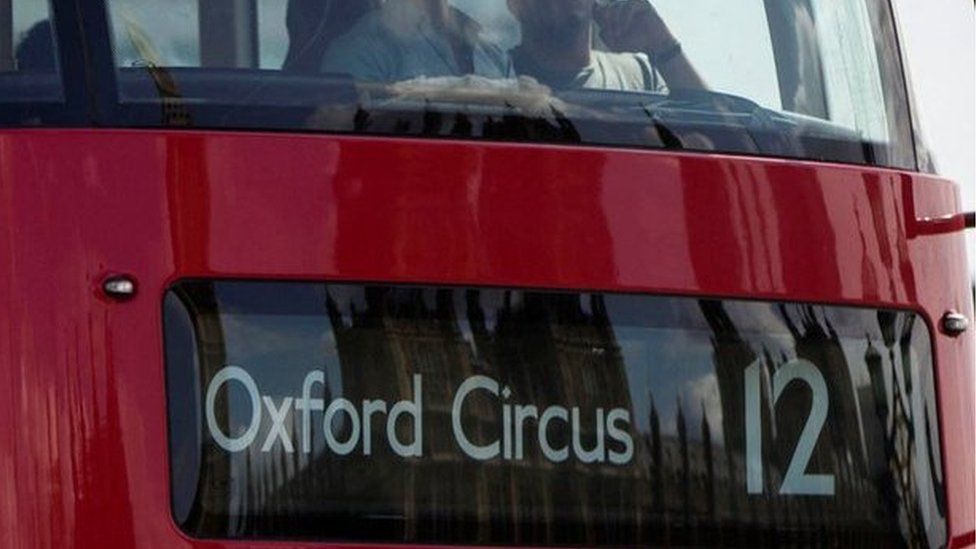 Bus services in central London could be cut by up to 20%, Transport for London (TfL) has warned.
A consultation as part of TfL's bus action plan threatens to remove 250 buses and 16 routes in what would be the biggest bus cuts for decades.
TfL's fourth government bailout expires on 24 June, after which it warns of cuts on routes where travellers have been declining since 2014.
"No one wants to see reductions," said Deputy Mayor for Transport Seb Dance.
"But TfL is having to consider these changes because of the savings demanded by the government as part of the emergency funding deals during the pandemic," he said.
The Department for Transport (DfT) previously said the total support given by the government was close to £5bn.
One week after the Elizabeth line opened, TfL cited "improvements to rail services and walking and cycling infrastructure, providing new alternatives" to bus routes.
TfL says 19% of journeys made on central London bus routes involve a change of bus which would rise to 24% under the proposals.
Its bus action plan published in March states 96% of Londoners live within 400m (1,312ft) of a bus stop.
TfL has already announced reduced bus frequencies on routes 36, between New Cross bus garage and Queen's Park, and 52, between Victoria and Willesden bus garage, from next week.
The 36 bus will run every eight minutes instead of every six minutes and route 52 will run every 10 minutes instead of every eight to nine minutes on Monday to Saturday daytimes and during the weekday peaks.
Last week, TfL also announced cuts to the 23 bus route.
The full list of routes expected to be cut or amended under the TfL plans is as follows:
4: Archway - Blackfriars
11: Fulham Broadway - Liverpool Street
12: Oxford Circus Station - Dulwich Library
14: Russell Square - Putney Heath
16: Cricklewood Bus Garage - Victoria
24: Hampstead Heath - Pimlico, Grosvenor Road Road
31: Camden Town - White City Bus Station
45: Elephant & Castle, Newington Causeway - Clapham Park
72: East Acton - Hammersmith Bridge North Side (terminus whilst Hammersmith Bridge is closed, actual terminus is Roehampton, Bessborough Road)
74: Baker Street Station - Puntey High Street
78: Shoreditch High Street Station - Nunhead, St Mary's Road
242: Homerton University Hospital - Aldgate
349: Ponders End Bus Garage - Stamford Hill, Rookwood Road
521: Waterloo Station - London Bridge Bus Station
C3: Earl's Court, Tesco - Clapham Junction
D7: Poplar, All Saints Church and DLR - Mile End Station
Related Internet Links
The BBC is not responsible for the content of external sites.