Partygate: 'Apology is a real slap in the face'
By Jennifer McKiernan
BBC News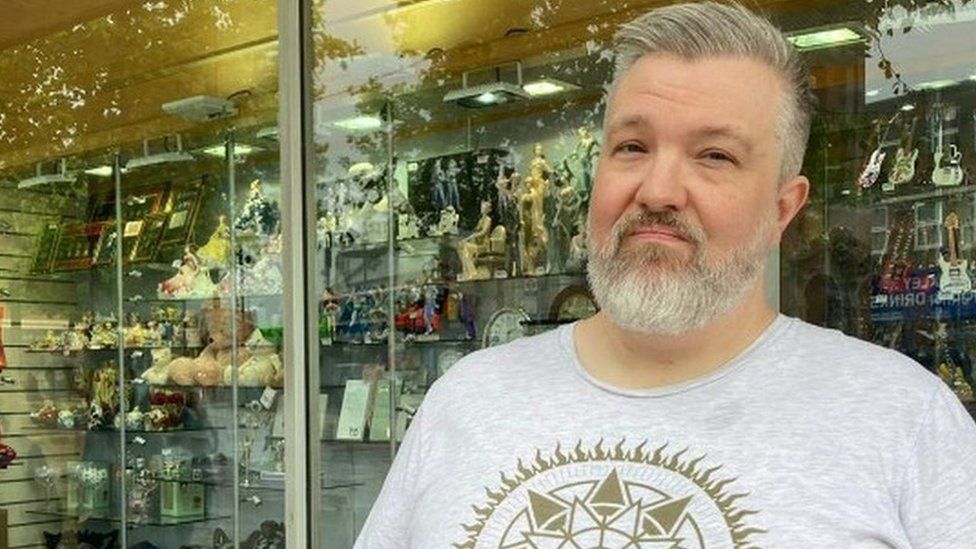 While Conservative MPs are continuing to get to grips with Sue Gray's report on Partygate, outside the Westminster bubble many people seem to have made up their minds on the prime minister's leadership.
Others were more sanguine, saying there was still no better man for the top job.
However, there was no holding back for Adam Williams, 46, who lost his father to pancreatic cancer last week.
He said he was furious at Prime Minister Boris Johnson's response to the Sue Gray report, which has revealed that staff partied in Downing Street while the rest of the UK was in lockdown, with the approval of their bosses.
Mr Johnson has said he takes "full responsibility for everything that took place on my watch", had been "humbled by the whole experience" and learned lessons.
But Mr Williams said: "It's not acceptable to lie and lie and lie and make out it's the truth.
"My dad died of pancreatic cancer because he couldn't go out of the house and get checked out - he died very painfully, very slowly.
"It's a real slap in the face to be told we didn't have to abide by rules but everybody else did.
"My dad did himself no favours by listening to what these people said."
Lynne Hoare, 64, said she and her husband Keith, 65, had stuck by the lockdown rules but they knew lots of others who were breaking the rules and sighed, "on their conscience be it".
She said: "I don't really think it's a good thing, what he did, considering what we had to do, obeying the rules, but on the other hand is there anyone else I would rather be prime minister at the moment?
"Probably not, with the war in Ukraine, so we're quite happy to let it go."
Her husband added: "I wouldn't want anything to change at the minute, unless it was really serious. This has gone on long enough."
Hadijat Folami, 55, said on balance she wanted Mr Johnson to stay in Downing Street for now.
"We need exemplary leadership," she said. "If you go into the town centre of Bexleyheath you will see all the businesses that are shuttered up and had to close down because they stuck by the lockdown rules.
"But they should let him finish up his term because we need to temper justice with mercy," she added.
Derek Ryan, 65, said the prime minister should go immediately, as well as make a "grovelling" apology to the Queen.
"I honestly think he and his cronies have taken the country for complete mugs, including the Queen of England," he said.
"She had the funeral for her husband, where she had to sit in Westminster Abbey all by herself, isolated, because of the rules and they still continued to have parties and, according to the fresh evidence, these parties were going on nearly continuously.
"I believe he should stand down right now. I know he won't but I think he should."
If the prime minister did not stand down, Mr Ryan said Conservative MPs should "definitely" hold a vote of no confidence.
"If I was a Tory MP I wouldn't feel safe in my constituency," he said. "If there was an election I wouldn't feel confident I would get in next time because of what has happened."