Dippy the dinosaur returns to London's Natural History Museum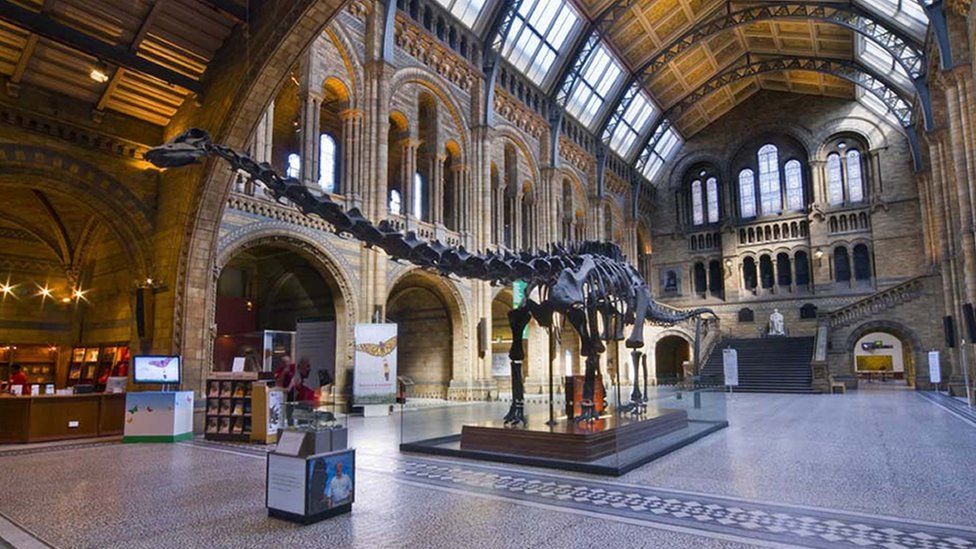 Dippy the dinosaur cast returns to its London home at the Natural History Museum on Friday for a short spell before heading to a new temporary base.
The 26m (85ft) diplodocus was seen by more than two million people on a UK tour after it was dismantled from the museum in 2017 after 112 years.
It will be back on display until December, after which a new host will be chosen for a long-term loan in 2023.
A report found the "Dippy effect" saw visitors increase everywhere it toured.
The replica will now go on display at the South Kensington venue as part of an exhibition.
The exhibit is a plaster-of-Paris replica of a Diplodocus carnegii skeleton. The original bones are housed at the Carnegie Museum of Natural History in Pittsburgh, USA.
There are several Dippy casts held at institutions around the world, though the Natural History Museum one was the first to be made and to go on public display.
The 292-bone skeleton arrived in London in 36 packing cases and was unveiled to the public for the first time in 1905.
During World War II, the skeleton was dismantled and relocated to the basement to protect it from bomb damage.
Its head originally pointed downwards with the tail resting on the ground but following research in the 1960s, the neck was raised to a horizontal position.
In 1993, the tail was repositioned to curve over the display hall.
The Natural History Museum wants venues with an indoor space big enough to fit a diplodocus cast to get in touch with reasons Dippy would be a benefit to their region.
It will be available on loan in 2023.
Dippy Returns: The nation's favourite dinosaur will run at the Natural History Museum from 27 May until December 2022. It will be free to visit but tickets have to be booked in advance.
Related Internet Links
The BBC is not responsible for the content of external sites.