'I had an epileptic seizure in a crocodile swamp'
By Jennifer McKiernan
BBC News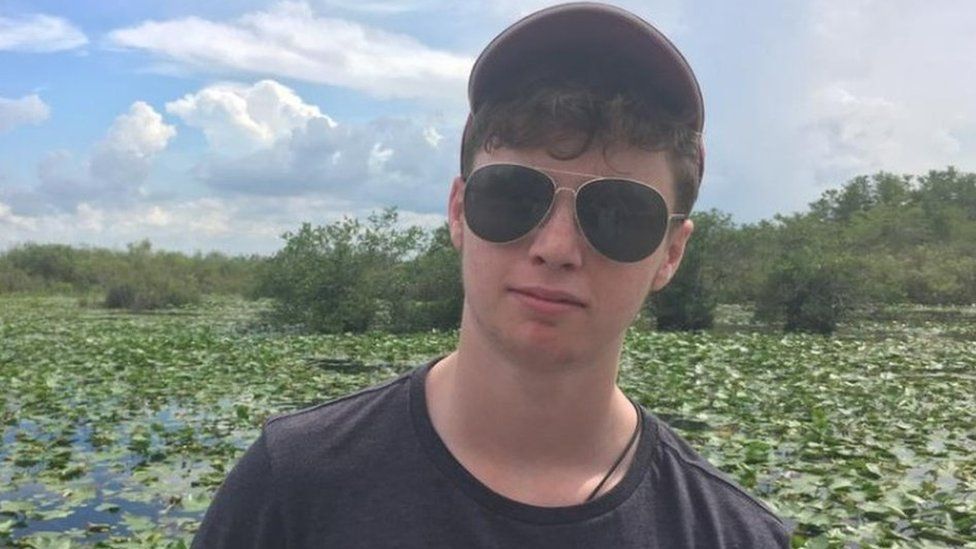 The only waters where man-eating crocodiles share the same space as alligators are the Florida Everglades.
So if there is one place not to fall in the water because of the reptilian dangers lurking beneath the surface, it would be here.
Yet this is where 16-year-old Theo Wilson, from London, a then-undiagnosed epileptic, suddenly collapsed on a wooden ledge over the water.
Now aged 19 and studying sport and business management, the teenager had just passed his GCSEs and been taken on a family holiday to Florida as a treat when his ordeal happened.
The Florida heat and humidity were quite a contrast to back home in the suburbs of west London, near Brentford.
As he perched with his brother on the wooden platform over the edge of the swamp, he was laughing so hard he felt giddy and suddenly collapsed.
"We were excited and I was laughing too much," he said. "I started convulsing really badly and my face turned blue.
"My mum gets really scared with the bad ones because my muscles get really tense, with my arms popping out, and I'm not really breathing.
"One minute I was laughing and the next it's a life or death situation."
The seizures started when he was 14 and he collapsed in the shower, but for many months they were a mystery to doctors.
"I just woke up on the floor with a massive headache," he said. "I was really baffled and confused about what had happened."
Several doctors, both NHS and private, also failed to diagnose the issue, as Theo has a complex combination of both epileptic seizures and fainting episodes.
Over the next 18 months, he remained undiagnosed and untreated, having regular seizures every couple of weeks and missing more than a month of school days.
Some of his classmates were less than supportive about his condition, with one calling him 'seizure boy'.
But his close call with crocodiles had an upside, as his quick-thinking dad was able to film the seizure for the first time.
"The doctors said they needed us to capture one of the seizures on video, and my dad had the presence of mind to whip out the camera," he said.
"As soon as they saw the footage, the doctors knew it was epilepsy, so I got my diagnosis.
"Now we can look back on it and it's sort of amusing and we can say 'remember that time Theo nearly died in a swamp'."
The medication he now takes means his seizures are much less frequent and starting to "peter out".
With gaps between episodes widening to five months, Theo now hopes to take his driving test if he can reach one year free from seizures.
Related Internet Links
The BBC is not responsible for the content of external sites.