Plans for giant, lit-up dome approved for Olympics site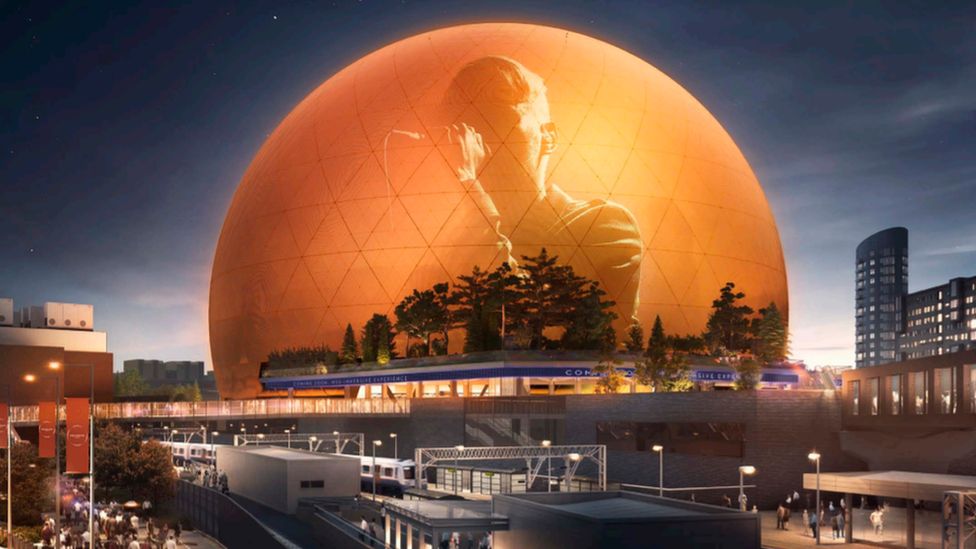 Plans for a giant, lit-up music venue in east London have been approved, despite complaints from residents.
The huge dome near the Queen Elizabeth Olympic Park would be one of the biggest concert venues in London.
At a height of 315ft (96m) and covered with LED lights, the proposal prompted fears it could blind passing train drivers and keep local people awake.
The London Legacy Development Company (LLDC) approved the plans on Tuesday.
The company behind New York's famous Madison Square Garden (MSG) says the scheme would boost the local economy.
Planners recently said despite the scheme being controversial, it would become a popular tourist attraction.
They said it would provide "an attractive visual backdrop for people living, working, enjoying recreational time, visiting and travelling through" the area.
The outside of the Madison Square Garden Sphere will show visual displays and adverts, and will be one of the biggest and highest-resolution screen in the world.
Campaigners behind the petition said the dome would block natural light to several residential blocks and disrupt people's sleep, due to the "bright light and advertising displays, beamed onto their homes from directly across the road."
Concerns have also previously been raised by Transport for London (TfL) and Crossrail about possible transport disruption, with thousands of passengers travelling to the venue for events.
Crossrail had also said it was worried the glare from the lights could potentially blind passing train drivers.
The LLDC planning meeting heard residents would be given black-out blinds to deal with the light from the sphere as a "last resort".
Madison Square Garden's owners said they would take measures to minimise light disruption to residents.
MSG London added the project would be a £2.5 billion boost for London's economy.
It said it would create 4,300 jobs a year while in construction, and 3,200 jobs a year once open, with many jobs going to local people.
Related Internet Links
The BBC is not responsible for the content of external sites.