Joey Barton: Assault trial delayed after his wife writes letter to court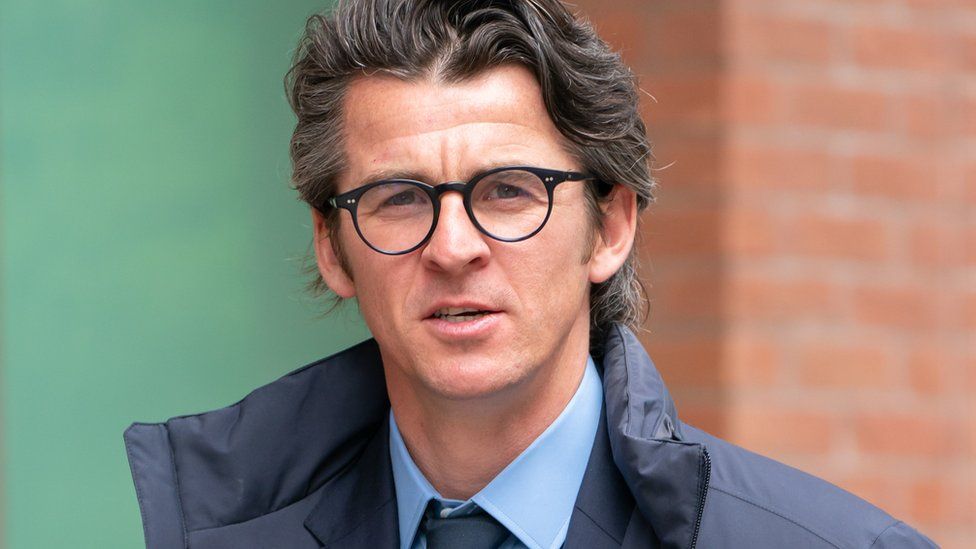 The trial of former footballer Joey Barton for allegedly assaulting his wife has been delayed after she wrote a letter defending her husband.
The Bristol Rovers manager is charged with assaulting Georgia Barton by beating in Kew, west London, on 2 June, last year.
In a letter to prosecutors, Mrs Barton said she was injured accidentally when friends intervened in the argument.
Mr Barton, 39, of Widnes, Cheshire, had been due to stand trial on Friday.
The former Premier League footballer's barrister Simon Csoka QC said Mrs Barton now claims she was injured accidentally when friends intervened in the argument with her husband after drinking "four or five bottles of wine each".
Mr Barton is alleged to have grabbed Mrs Barton by the throat and kicked her in the head outside a property, the Wimbledon Magistrate's Court heard.
The court was previously told Mrs Barton was left with a bloody nose following the altercation.
She then called the police and asked for her husband to be removed from the property, the court heard.
Prosecutor Helena Duong told the court when officers arrived Mrs Barton "says she had got into a drunken fight, a disagreement about families, with her husband, and she had been pushed down and kicked".
Ms Duong called the letter, written eight months after the incident, an "attempt to exculpate her husband".
The letter to the Crown Prosecution Service (CPS) on 17 February, was supported by two emails from Mrs Barton which had only been seen by Ms Duong on Friday morning.
"Mr Barton is married to the alleged victim in this case and they continue to be in a relationship," said Ms Duong.
"The Crown does not propose to call her."
The case has now been adjourned until 23 June.
Bristol Rovers, who were relegated to League Two last season, declined to comment while legal proceedings were ongoing.
The former midfielder played in the Premier League more than 250 times for Newcastle United, Manchester City and Queens Park Rangers.
He then moved into management, starting off with Fleetwood Town from 2018 to 2021, before joining Bristol Rovers.
Related Internet Links
The BBC is not responsible for the content of external sites.