Covid: Tube and bus mask rules to be scrapped in London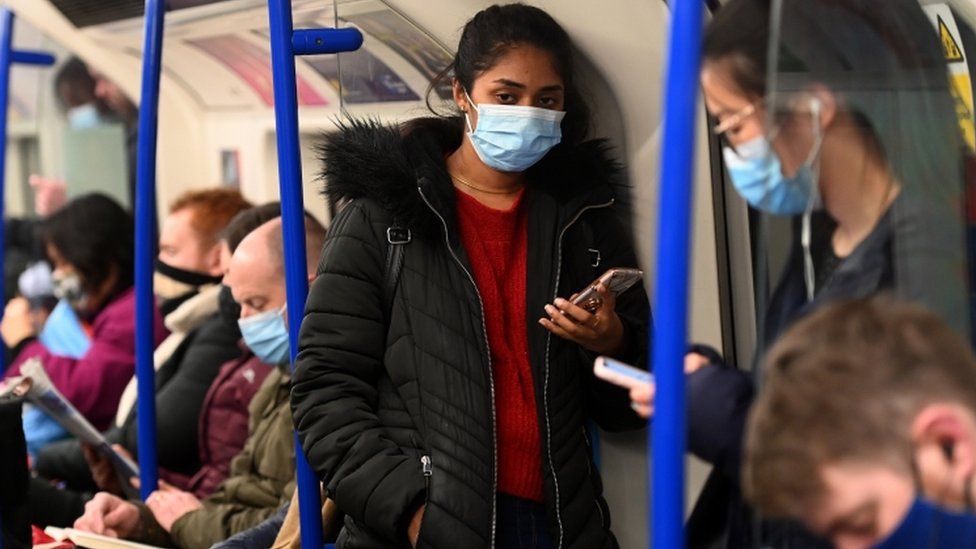 Passengers will no longer be required to wear face coverings on the London transport network from Thursday.
TfL said it made the decision after data showed a fall in Covid infection rates in London.
But it "strongly encouraged" people to wear masks.
Although the legal requirement for mask-wearing on public transport, in shops and schools was lifted across England last month, London's mayor Sadiq Khan chose to keep mask-wearing as a requirement on the TfL network.
It meant people could be asked to leave the network for not wearing masks, although they could not be issued with fixed penalty notices.
Recent figures showed 57,279 passengers were stopped before getting on TfL services between 30 November and 25 January.
Most complied by wearing a face covering, but TfL data shows 2,757 commuters were stopped from boarding TfL services while 1,056 people were told to leave stations.
A total of 1,948 passengers were reported for fines, the mayor of London said.
Public transport use has grown in recent weeks as London recovers from the pandemic.
Last week, there were about 2.2m to 2.5m journeys each weekday on the Tube, which was about 60% of pre-pandemic levels.
And weekday bus ridership is now regularly at around 4.5m journeys a day, about 75% of pre-pandemic levels.
Last weekend, Tube and bus numbers were even closer to pre-pandemic levels, with the Tube reaching 75% of the figures seen before the first Covid restrictions were imposed.
Lilli Matson, chief safety, health and environment officer for TfL, said: "We have seen increasing numbers of customers return to our network as they begin to return to offices and workplaces, as well as to bars, theatres, restaurants and other cultural venues.
"That return is due in part to the confidence that Londoners have in our ongoing work to ensure that the transport network is clean, reliable and safe.
"All customers should be assured that the public transport network is as safe as other similar settings, and that independent testing has found no trace of coronavirus on our network since September 2020."
Related Internet Links
The BBC is not responsible for the content of external sites.