Moorfields Eye Hospital gives woman, 88, bionic eye implant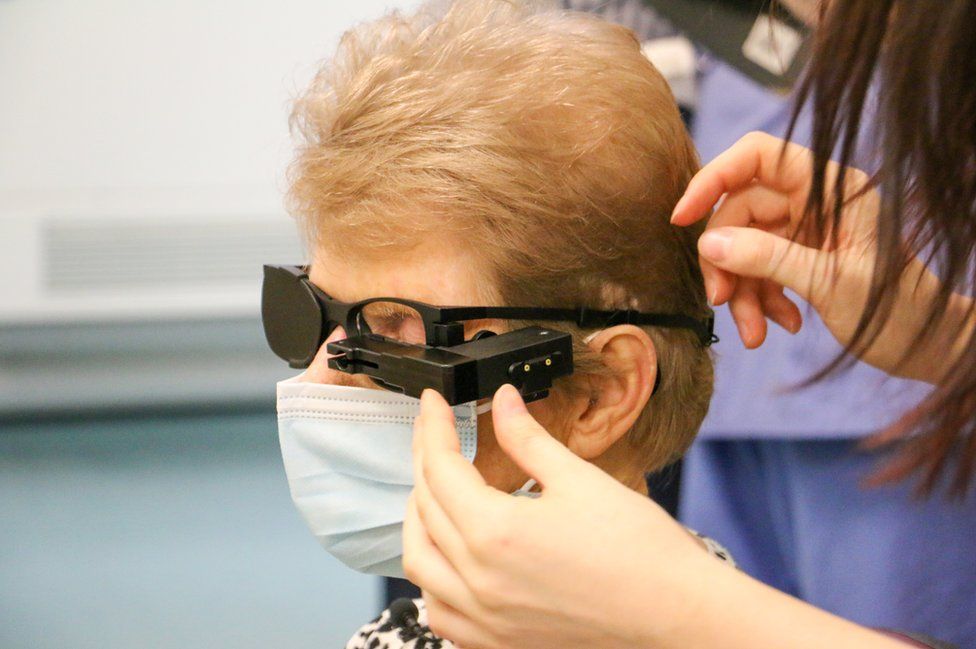 An 88-year-old woman from east London has received a pioneering eye implant to help partially restore her deteriorating vision.
The surgery at Moorfields Eye Hospital involved inserting a 2mm wide microchip under her retina by surgically creating a 'trapdoor' in which the chip rests.
Special glasses, containing a camera connected to a small computer attached to a waistband, make seeing possible.
"I am thrilled to be the first to have this implant," the recipient said.
The patient suffers from the most common form of dry age-related macular degeneration (AMD) and the implant offers the hope of partially restored vision for those with geographic atrophy (GA).
This condition is progressive and currently has no treatment. Some 12% of those aged over 80 will be affected by dry AMD, while GA affects 6.7% of over 80s.
Once the microchip has been implanted under a patient's retina, it captures visual scenes projected by the glasses and transmits this to the computer.
Artificial intelligence (AI) algorithms process this and instruct the glasses on what to focus on. The glasses then project that image as an infra-red beam through the eye and into the chip, and convert it into an electrical signal going "into the brain, where it is interpreted as if it were natural vision".
The Dagenham dweller said AMD had stopped her from gardening, playing indoor bowls and painting with watercolours.
She added: "I am excited at the prospect of enjoying my hobbies again and I truly hope that many others will benefit from this too."
Mahi Muqit, consultant vitreoretinal surgeon at Moorfields Eye Hospital, said: "This ground-breaking device offers the hope of restoration of sight to people suffering vision loss due to dry AMD.
"The success of this operation, and the evidence gathered through this clinical study, will provide the evidence to determine the true potential of this treatment."
In November, a man from Hackney, east London, became the first person in the world to have a 3D-printed prosthetic eye at the same hospital.
Related Internet Links
The BBC is not responsible for the content of external sites.