Piers Corbyn arrested over video calling for arson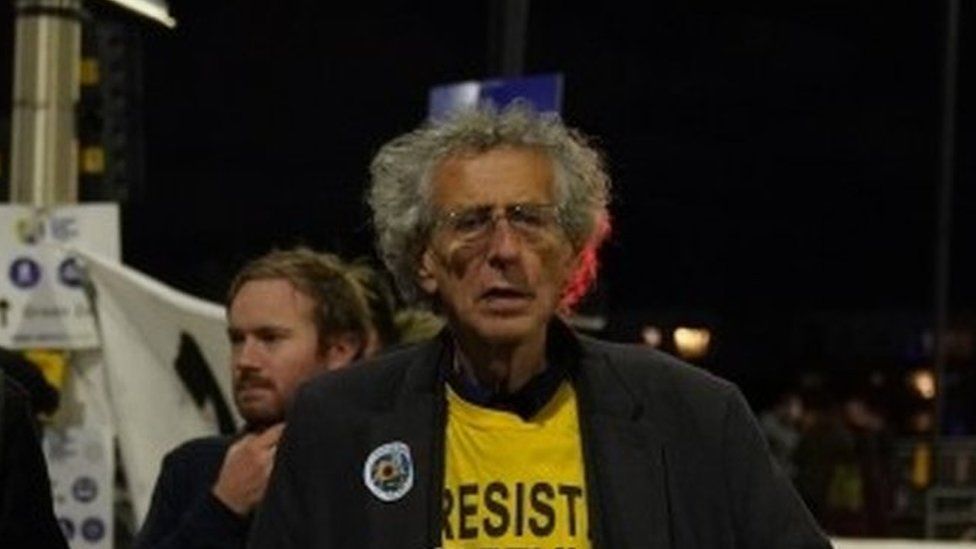 Piers Corbyn has been arrested on suspicion of encouraging people to attack MPs' offices.
The Met Police said the arrest related to a video filmed during a rally in London against Covid restrictions.
He was arrested in south London in the early hours of Sunday.
The force did not name Mr Corbyn, however it previously said it was assessing a video which appears to show him calling for direct action.
The video went viral on Saturday night but was believed to have been filmed earlier in the week.
It appeared to show the 74-year-old prominent anti-vaccination campaigner criticising MPs who supported the introduction of Plan B measures.
After decrying "those scum who have decided to go ahead with introducing new fascism", he tells a crowd to find out if their MP supported the new restrictions.
Plan B, which was approved in a vote in Parliament on Tuesday despite a Tory rebellion, includes the introduction of Covid passes - requiring proof of double jab or negative test - to access certain venues like nightclubs.
On Saturday, a protest was held in London by those opposed to the vaccine and lockdown.
The Met Police said there was a "minor scuffle" in Parliament Square between police officers and protesters at about 12:30 GMT and that eggs were thrown at a shop window on Regent Street just before 15:00 GMT.
At 16:00 GMT, the Met said officers had beer cans and a flare thrown at them while at Whitehall, others were subjected to abuse and physical violence. It said some officers were injured, but not seriously.
Related Internet Links
The BBC is not responsible for the content of external sites.