Transport workers' abuse: Violence 'part of the job'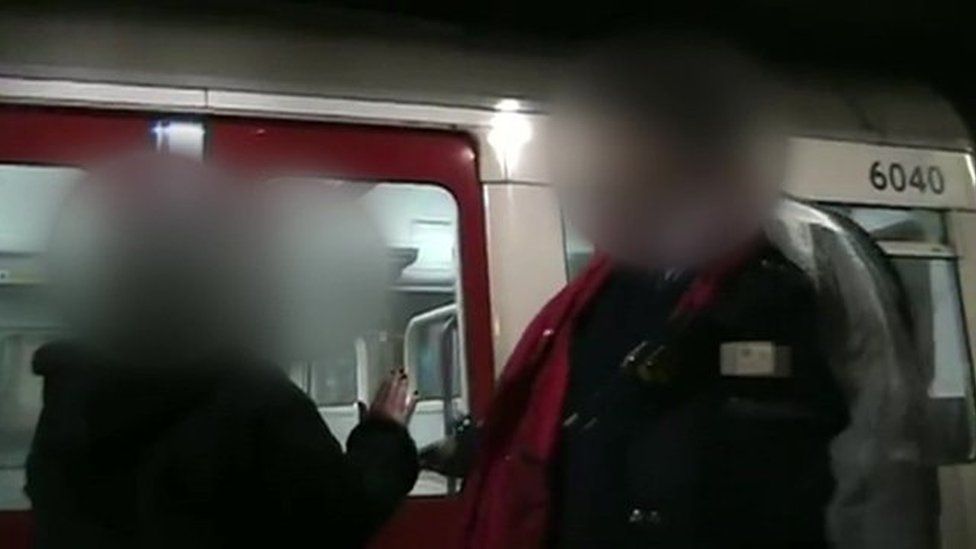 "Being sworn at every day and confronted with violence and aggression has become part of the job."
"I've been assaulted physically and verbally. I was pushed as a train came into the platform and I am still off work now because of it."
"I was pushed through the barrier and lost consciousness for a while."
"Been sworn at on several occasions. In one incident, I was threatened with stabbing."
"Threats of assault, including a man trying to kick me and when I went to a place of safety, he tried to kick the door in. This was accompanied by various verbal assaults."
"Spitting, threats to spit."
In a survey of more than 1,000 members who work on either the London Underground, Overground or Transport for London (TfL) rail services, 76% of public-facing staff including station staff, drivers and cleaners, reported they had been subjected to workplace violence from passengers since the pandemic began.
56% of respondents reported being threatened with physical violence, 87% reported verbal abuse, 14% reported being spat at or targeted with bodily fluids
50% reported suffering workplace violence between two and five times, with almost 40% saying it had happened more than five times. One in five reported that it had happened more than 10 times since the pandemic began
28% reported being racially harassed and 7% had been sexually assaulted
The union said the problems had become worse since the pandemic.
Having to implement Covid safety rules, the lack of action against perpetrators, lack of support, rising aggression levels and mixed messages to the public are some of the reasons given for the increase.
One respondent said: "We put up with it so we don't escalate it. But it is 10 times worse since Covid. The main trigger is people not socially distancing or not wearing masks. The messages are vague and cause conflict amongst customers who expect us to intervene."
Assaults against transport workers in London have long been a problem.
The union claims violence has increased since TfL lost the operating grant from the government in 2018 as part of plans to make it "self-sufficient" on fare revenue. This led to staffing cuts.
Siwan Hayward for TfL, said: "Our staff have played a heroic role during the pandemic in keeping vital transport services running. Everyone has the right to do their job without fear, abuse or intimidation - and any violence, aggression or threatening behaviour is completely unacceptable.
"The figures in this RMT survey are much higher than those reported to the police or through our own reporting systems, and we strongly encourage all instances of workplace violence to be reported so that we can provide support and take action needed."
The union said it supported a Bill by Labour MP Olivia Blake to make verbal or physical abuse against all public-facing workers carrying out their duties a specific offence.
A recent report by the Home Affairs Committee on the violence and abuse of retail workers said the police response was "failing to match the rising tide of violence and abuse" against workers and that the government should "consult urgently on the scope of a new standalone offence".
Related Internet Links
The BBC is not responsible for the content of external sites.